Try pearl hunting
#11 of 20 things to do in Abu Dhabi
Do you want to learn how to hunt for pearls? You will have such an opportunity in the water park Yas Waterworld. It is a place with unique attractions, that have no analogues in other water parks.

This attraction is a water tank 5 meters of depth, in which you dive holding your breath like a real pearl diver and collect from the bottom three oysters with precious gems. Two diving instructors will accompany you in the process.

Once the oysters are delivered to the land, you will be invited to the store of pearls, where they will teach you how to properly open the oyster, tell you about the types of pearls and reveal other secrets of pearl hunting. You can purchase one of the found gems, and even order it set in a jewel.

This entertainment is available four times a day for adults and children aged 8 and up.
Where to do?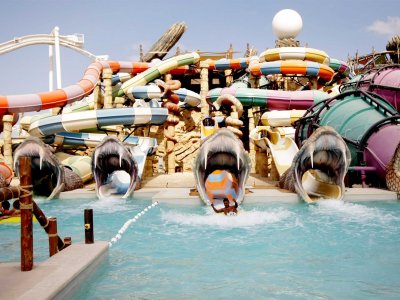 Yas Waterworld Waterpark
The highlight of this unusual and really grandiose water-park is one of a kind attraction that is to be found nowhere else in the world.
18
Abu Dhabi
Open hours:
9:00 am – 6:00 pm (depending on the season). Thursday 6:00 pm – 11:00 pm, Ladies night (for Ladies only).
Phone:
+971 2 414 2000
Official website:
http://yaswaterworld.com
How much?
The cost of participation in this unusual attraction, lasting for one hour, is 149 dirhams.