Climb Jebel Hafeet mountain
#2 of 6 things to do in Al Ain
This rocky mountain is one of the two highest places in the Emirates. The height of Jebel Hafeet is about 1,249 meters. Therefore, the ascending this giant by the serpentine, as well as the view from its peak, will make a special impression on you.

To go up the top of the mountain, which you may do at any time of the year by car or bike, you need to cover a winding 11-kilometer route. Throughout the road, there are several viewing platforms with information blocks, telling some interesting facts about that particular sight.

Jebel Hafeet is also famous for its tourist attractions. An oasis at the foot of the mountain with its healing thermal springs and golf courses is a popular place for holidaymakers. A lot of natural caves in the mountain, and the desire to explore the mysteries of nature attract adventurers from around the world. Moreover, every winter, the snake-like road of Jebel Hafeet is a venue for biker tournament.

There is a comfortable viewing platform on the top of Jebel Hafeet. Its mountainous cold gives you pleasure of enjoying a breathtaking view of the city and its surroundings. Not far from the site, the residence of the Prince of Abu Dhabi has been built, as well as an ultra-modern spa resort with hotel.
Where to do?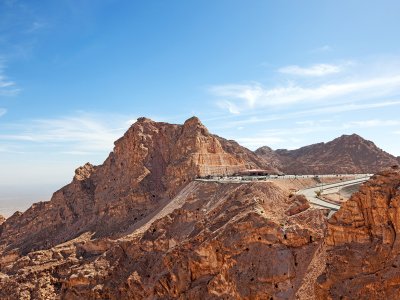 Jebel Hafeet
This amazing natural monument attracts lots of tourists by its hot springs, panoramas from viewing platforms and natural caves.
15
Al Ain