Visit a floating market
#4 of 43 things to do in Bangkok
You still haven't heard of floating markets? Then imagine a canal swarming with long boats serving as shops, with locals on board selling all kinds of exotic produce!

The floating markets of Thailand, of which Damnoen Saduak is the most popular, are the real oases of the past days. Of all places, this one gives you the best idea of how Thai people used to live in the distant past. Gaudy, rickety, boisterous, colorful, spicy – these are just a few adjectives describing the atmosphere there. The Thai vendors are fishing for customers by luring them in with fragrant pineapples and melons, juicy dragon fruits and jackfruits, ripe bananas and totally exotic lychee fruits, papayas, pomelos, mangosteens and durians.

Meals are cooked over an open fire, right on board of the boats. Here you can also buy hand-made souvenirs, spices, roots, fragrances and scented oils. Remember that negotiating is not only acceptable, but also crucial in Thailand: the most die-hard bargain seekers can knock the price down by more than a half!

The market is a one-hour ride from Bangkok. You can either drive here, or use a public bus (departures daily from 06:00, at every 40 minutes from the Southern Bus Terminal; one-way tickets cost 50 baht), or with a guided tour.
Where to do?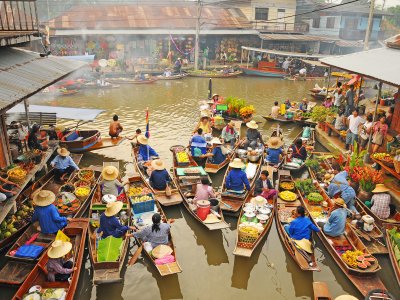 Damnoen Saduak Floating Market
It is the most flamboyant place in Thailand – it features tens of boats all over the canal, where merchants cook meals over an open fire and sell exotic produce.
17
Bangkok
Open hours: trading begin at 07:00 and at 12:00 all the boats are leaving begin