Ride on a boat with a glassed floor
#15 of 43 things to do in Bangkok
The fabulous underwater world is bordering between dream and reality, fancy and actuality, placidity and mirth – everything here is in relentless motion and never asleep.

Bangkok's colossal aquarium occupying a territory of 10,000 square meters has a stunning collection of sea creatures available. Here you can take a ride in a boat with a glassed floor and get to watch sharks swim literally under your feet, protected by the sturdy glass.
Where to do?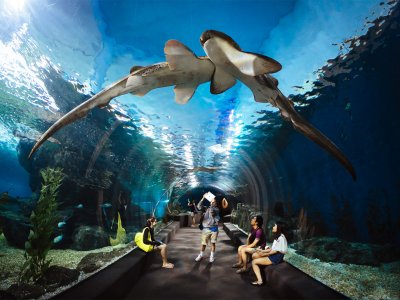 Siam Ocean World Aquarium
Immerse in the Little Mermaid fairy-tale in Bangkok's huge aquarium — here you'll be surrounded by sea stars and multicolored fish, penguins and otters, rays and sharks.
27
Bangkok
Location:
B1-B2 Floor, Siam Paragon, 991 Rama 1 Road, Pathumwan
Open hours:
daily from 10:00 am to 09:00 pm, last call for tickets 08:00 pm
Phone:
+66 2 687 2000
Official website:
http://www.siamoceanworld.co.th