Take a selfie with a guard at the Grand Palace
#2 of 43 things to do in Bangkok
As everybody knows, Thailand is a kingdom, and a kingdom is incomplete without a gorgeous palace! The Grand Palace in Bangkok is a pilgrimage site for tourists from all over the world. To say "I've been to Thailand" without paying a visit to the former residence of the kings is as good as lying.

The beautiful 18th century ensemble covering 218,000 square meters is made of several buildings surrounded with four walls. There are temples, museums, the Royal library and the temple of the Emerald Buddha in the palace's territory. The spirit of the age particularly reflects in the majestic throne rooms and magnificent frescos decorating the galleries.

The austere guards standing at the palace entrance complete the picture, but in spite of their seemingly grave look, those guys will let you take a colorful selfie with them in loving memory.
Where to do?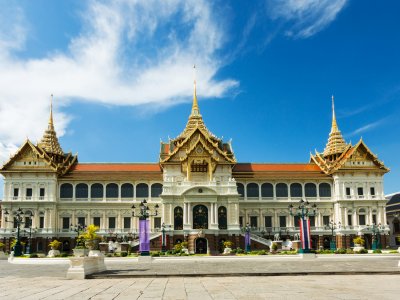 Grand Palace
A magnificent 18th century ensemble comprising museums, a library and the temple of the Emerald Buddha — this is a must-see for any visitor to Bangkok.
19
Bangkok
Location: Na Phra Lan Rd, Phra Nakhon, Bangkok
Open hours: daily from 8:30 am to 16:30
Phone: +66 2 623 5500

How much?
the cost of entry into the palace of 350 lats per person.