Get on the roof of the highest skyscraper
#5 of 43 things to do in Bangkok
Baiyoke Tower is one of the tallest buildings in Bangkok. If you are a brave person, you will want to climb to the very top, the 84th floor to be more exact, to the revolving observation platform, offering a cosmic view.

Actually, it is not surprising as the height of the hotel is 309 meters! Having climbed to the top, you feel like you can almost touch the stars!

A high-speed glass elevator will take you to the top like a rocket, adding to the impression of an intergalactic experience.

Of course, you can venture up there on foot. In this way you can try to repeat the feat of amateur athletes who annually compete in overcoming the 168 stairs. Perhaps this is the reason why there are several restaurants on the observation platform – after this race you will certainly want to make up for the lost calories!
Where to do?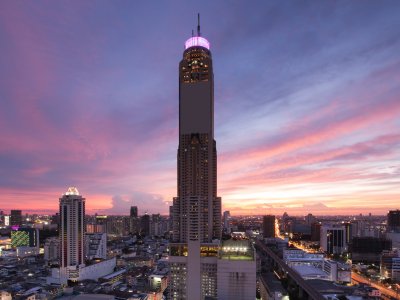 Baiyoke Sky Tower
Feel like an astronaut when getting to the top of one of the highest (309 m) buildings in the city – a high-speed elevator will whisk you almost into the space like a rocket!
23
Bangkok
How much?
to get to the platform during the day, from 10:00 am to 06:00 pm, costs 300 baht per person, and in the evening, between 06:00 pm and 10:30 pm, it costs 400 baht. The price includes one drink at the bar located on the observation platform.

For the guests of Baiyoke Sky Hotel, the entrance to the site is free of charge at any time.
Tips and hints
for those who come to dine at any of the restaurants in the tower, the entrance, by the way, is also free;)