Visit a robot restaurant
#6 of 43 things to do in Bangkok
If you think you've seen it all, try visiting the Hajime Robot Restaurant – a place where you will be served by real robots! This crazy idea once occurred to an ingenious businessman who ordered two robots from Japan and appointed them waiters at his Japanese restaurant.

At Hajime Robot Restaurant you can either cook by yourself from a choice of fresh ingredients in the menu, or you can order cooked meals of Japanese, European or Thai cuisines. Before taking a place at the restaurant, make a decision of whether you want to boil or grill your food – the restaurant has tables with electric stoves and those with circular openings in the middle for burning coals.

The terminators are clad in the traditional armor of Japanese warriors, and one of them will readily trot towards you and lay the table, once you've made your order via the interactive menu.

The venue is not particularly known to the public, so if you'd like to take some rest from the noisy tourist crowds in the company of terse stainless waiters, that's the place for you!
Where to do?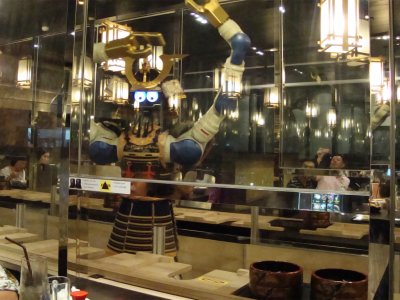 Hajime Robot Restaurant
At this Japanese restaurant you can order ready meals or cook them by yourself, but its main feature is its robot waiters!
15
Bangkok
Location:
3/F, Monopoly Park, 59/27 Rama 3 Rd
Open hours:
daily from 11:30 to 22:00
Phone:
+66 2 683 1670
Official website:
http://www.hajimerobot.com
How much?
the average check for two 700 baht.