Get to the top of the Statue of Liberty
#2 of 8 things to do in New York
Go to the top of the Statue of Liberty, feel the might and power of the main symbol of America. Yes, the statue is not just a monument, but a memorial, inside of which you can move freely, while the crown of the statue houses a large equipped observation platform.

The Statue of Liberty is a 125-ton construction. There are spiral stairways inside the statue frame structure. To get to the observation platform, you have to climb as many as 354 steps. All the elements of the Statue of Liberty are symbolic.

The crown of the statue is made up of seven spikes, standing for the seven world continents and the seven oceans, the windows of the observation platform being the "gems" of Miss Liberty's crown. Upon the tablet in the statue's left hand a most significant date is inscribed, the date of signing the fundamental document of America – the Declaration of Independence. In 1924 the Statue of Liberty was declared a National Monument. In 1930 the island and the monument were declared a National Park.

The statue's frame structure is fully covered with copper plates. Being exposed to moisture, metal oxidizes. The oxides have an emerald tint, which caused the Statue of Liberty turn green. Restoration work was carried out more than once on the monument, the statue acquiring new elements and innovations. Today, the monument is modernized with laser illumination elements.
Where to do?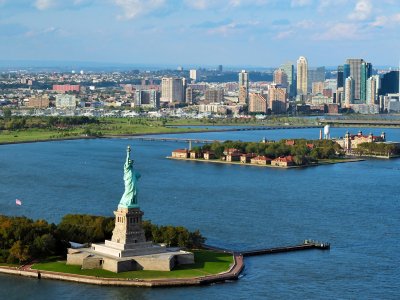 The Statue Of Liberty
The statue of liberty is the legendary landmark of the United States of America, symbolizing the might and greatness of the country.
12
New York
Location: Liberty Island
Open hours: daily fron 08:30 am to 4:00 pm
Phone: +1 212-363-3200

How much?
to get to the sight you should buy a ticket. There are special tickets including a ferry trip to Liberty Island and a visit to the Statue of Liberty itself. For example, a ferry ticket, including an audio-guide and a pass to the crown and pedestal of the statue, will cost $21 for adults, $17 for seniors, and $12 for children over 4 years old.