Walk through the old Manarola
#1 of 5 things to do in Genoa
If you want to reach Manarola, you need a car that you'll have to leave on the parking lot in the nearby village Monterosso, or you can take a train from Genoa or La Spezia.

In Manarola you will plunge into the Italian architecture of the village, that is full of bright colours. First of all visit the main church in Manarola - St. Lawrence, he is considered the patron saint of the village.

Next you will see the The Way of Love (Via dell'Amore) - it is the name of the path that lies between Manarola and Riomaggiore.

Walk among the tangled streets of old Manarola, come out to the harbor and take a photo of the sunset. And then you can go to the tavern and order a freshly caught fish (Manarola is also a famous fishermen village), and a glass of wine, made by the hands of the villagers.
Where to do?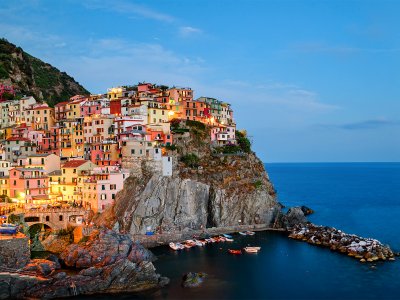 Manarola
The oldest city of the national park Cinque Terre near the Ligurian Sea, it is known for its colorful houses and incredibly beautiful harbor.
30
Genoa
Location: Cinque Terre

How much?
train from Genoa to Cinque Terre costs from €7 to €13.