Safe
partner
Organizer
Cozmo Yachts | Official website
Cozmo yacht team will help you to enjoy unforgettable and fun-filled sea adventure of a lifetime. You could see Dubai from a completely different angle. At Cozmo Yachts values theirs clients and so their desires!
Want to catch a Fish? Cozmo Yachts luxurious fishing boats that have everything you need to make your fishing trip truly memorable.
The wide variety of fishes that can be found in the seas around Dubai means that fishing is a very popular sport both for locals and tourists. You could find yourself catching tuna, barracuda, snapper or a number of other species. Some of these fish have a reputation for being difficult to catch, but this only makes it more rewarding when they are caught. Imagining how good that fish is going to taste can really help to whet your appetite for what is ahead.
The captain of your ship will be an experienced deep-sea fisherman who will have plenty of stories to tell to keep you entertained as you make your way to your destination. As well as being thoroughly entertaining, you can also learn a lot from these stories that will help you improve your own technique.
33 feet yacht
Cozmo Yachts packages can be enjoyed whether you are an experienced angler, or whether this is your first trip. The complimentary equipment is top of the range, and you will receive plenty of guidance about how to use it.
All of Cozmo Yachts vessels are equipped with SONAR for sensing fish, which almost guarantees that you are going to make the catch of your life on this exceptional fishing trip.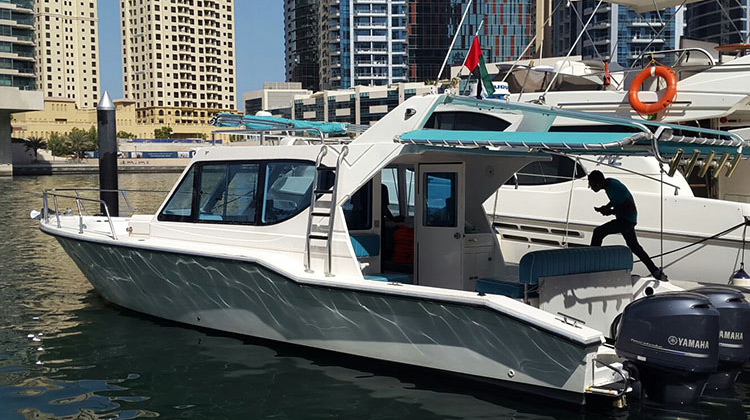 41 feet yacht
Minimum time for which you can rent a yacht for fishing is 4 hours. Cost - 300 dirhams per hour. For a fishing tour you can rent a 33 feet or a 41 feet yacht.
Meeting point on the map
Yacht Club West bay
Duration: minimum 4 hours
Included: equipment, sonar, water, soft drinks, ice
Tour schedule: on demand