Adventure Rating in Toronto
TOP-22 adventure's step-by-step
recipes & lifehacks
How to take a walk underneath Niagara Falls in Toronto
How to take an edge walk in Toronto
How to see Niagara Falls in Toronto
How to take a boat to Niagara Falls in Toronto
How to feed chipmunks in Toronto
How to take part in World Naked Bike Ride in Toronto
How to cross the bridge between Canada and the USA in Toronto
22 things to doin Toronto
Cascade of waterfalls at Canada-the USA border: the Horseshoe Falls, the American Falls and the Bridal Veil Falls.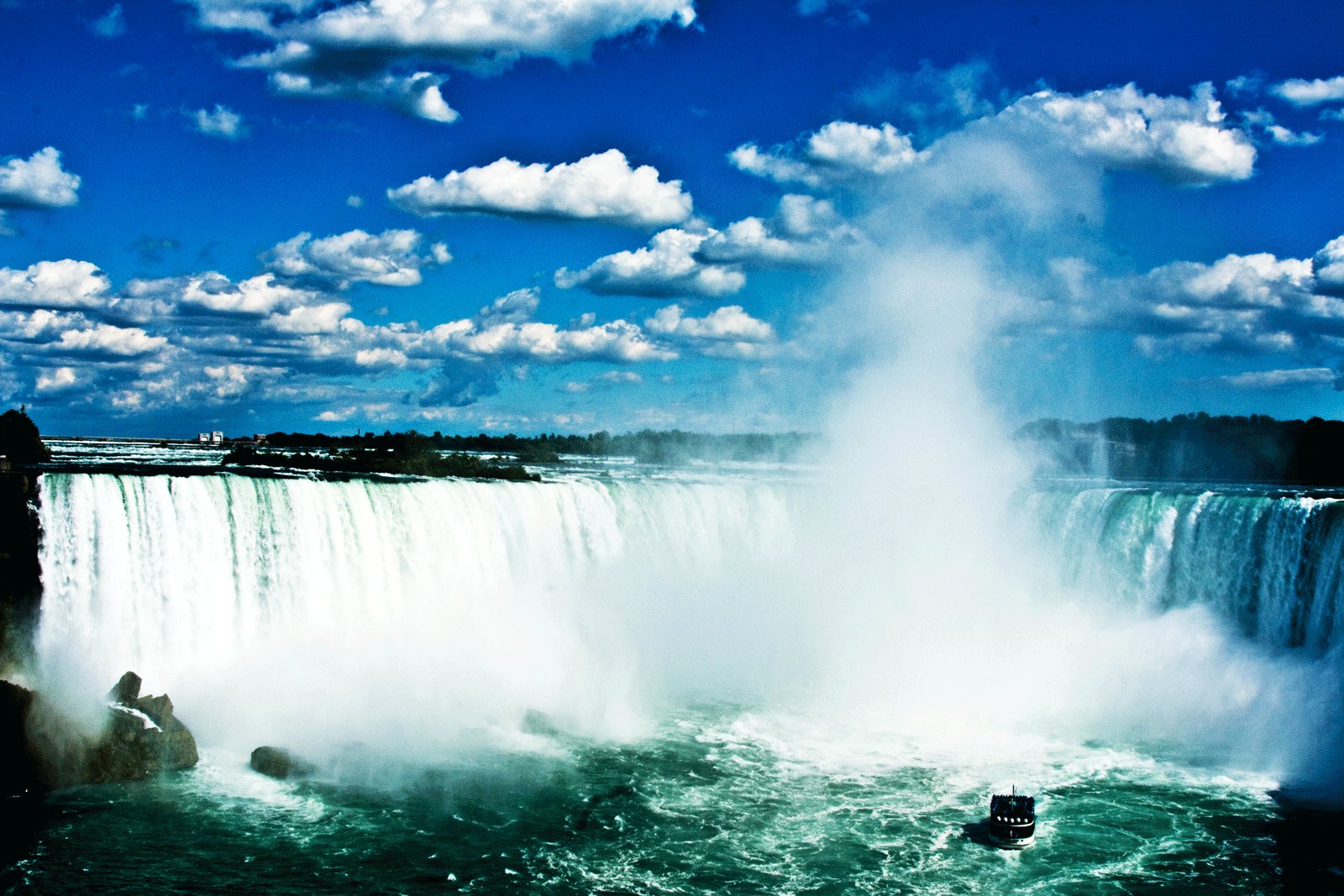 World-know sight of North America, Niagara Falls is situated at the borders the Great Lakes Erie and Ontario. Every year millions of tourists visit the place to see modern wonder of the world.
Interesting facts
• The Europeans got to know about the waterfall when Louis Hennepin first described it in his notes in 1677. The name "Niagara" is thought to stand for English "thundering water" from local language of Mohawk tribe.
• Niagara Falls in fact consists of two: American and Canadian. The latter is more known as Horseshoe, it is 50 meters high and 800 meters wide. American fall is a little smaller - 20 meters high and 330 meters wide.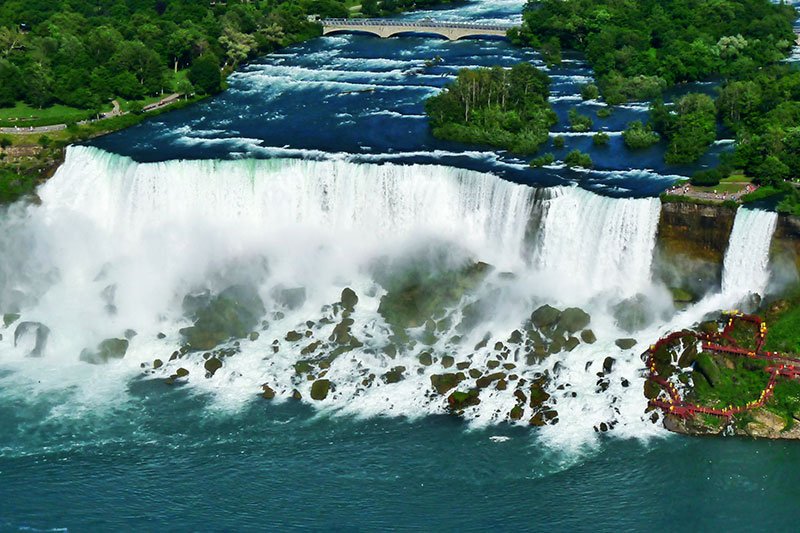 • Goat Island separates two waterfalls. You can find viewing platforms, souvenir stalls and promenade in here.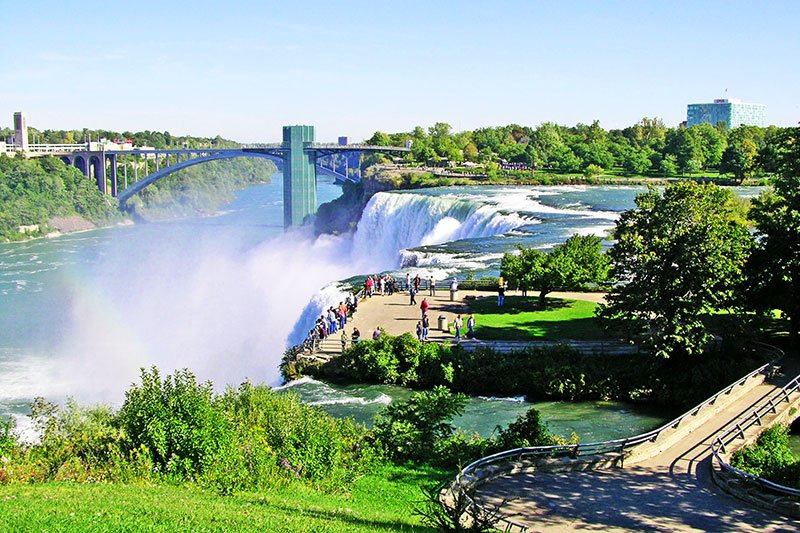 • Niagara is not just a touristic spot. In 1881 the first power plant was built on the river which functioned till 1951 and then collapsed due to landslide. Now new hydroelectric station functions here.
• One of the must-do attraction of Niagara Falls is Maid of the Mist boat ride. They go on top of the ravine and at the beginning of Horseshoe. Boats has been running down the Niagara since 1846, you can ride one for 13 dollars. You'll get a raincoat on board - the boat comes too close to the bottom of the falls and you can get soaked to the skin.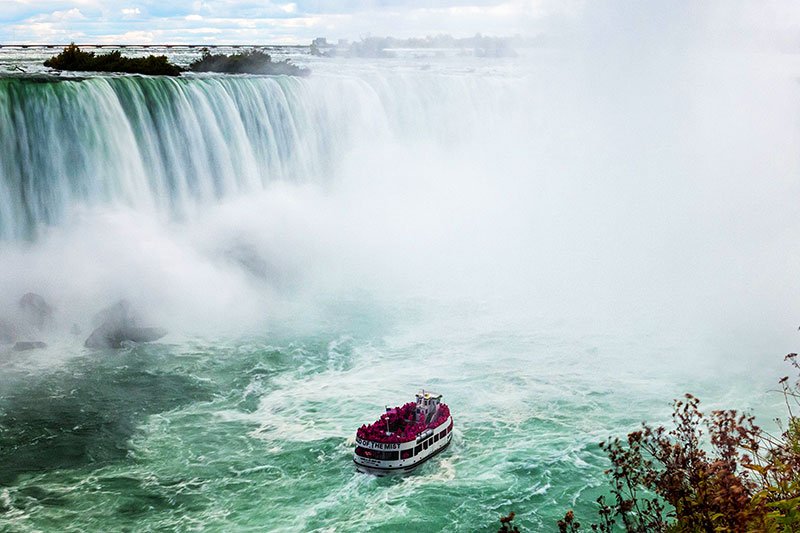 • Descending down Niagara is illegal in both countries - America and Canada, but this doesn't stop thrill seekers who decided to jump into the stream. Sam Patch was the first who did it in 1829.
• Another entertaining thing of that time was barrel rafting. In 1901 Annie Taylor successfully jumped from Niagara Falls. That was the extreme way she celebrated her 63th birthday.
• Not everyone get to the waters voluntarily. In 1960 7-year-old boy Roger Woodward fell into the waterfall. He survived and thanks to a life-jacket he stayed afloat and he was taken to Maid of the Mist boat.
• In 1941 the Rainbow bridge was constructed over the river connecting America and Canada. Most pictures of the waterfall was taken right from here.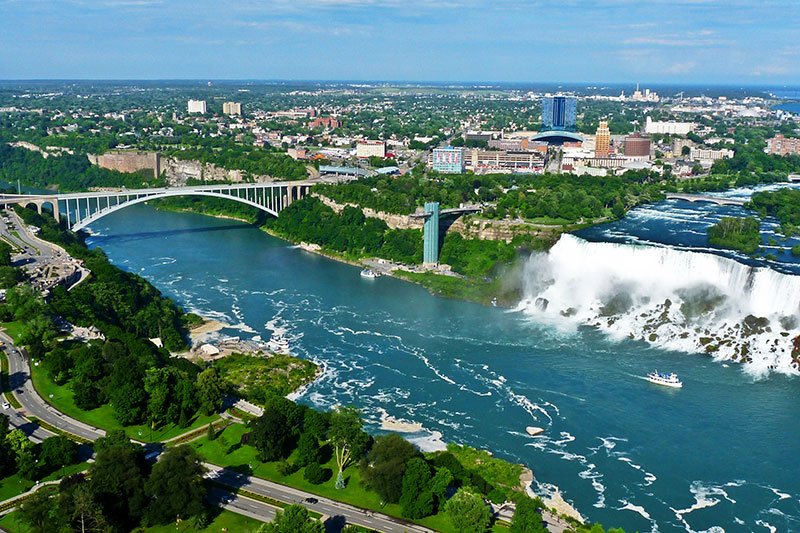 • Also you can get impressed by the immensity of the falls from the height. For this purpose they constructed a cable way and arrange helicopter excursions and hot air balloon flies.
• With the advent of dusk Niagara Falls Illumination show starts, and every year from November till December Lights Festival take place.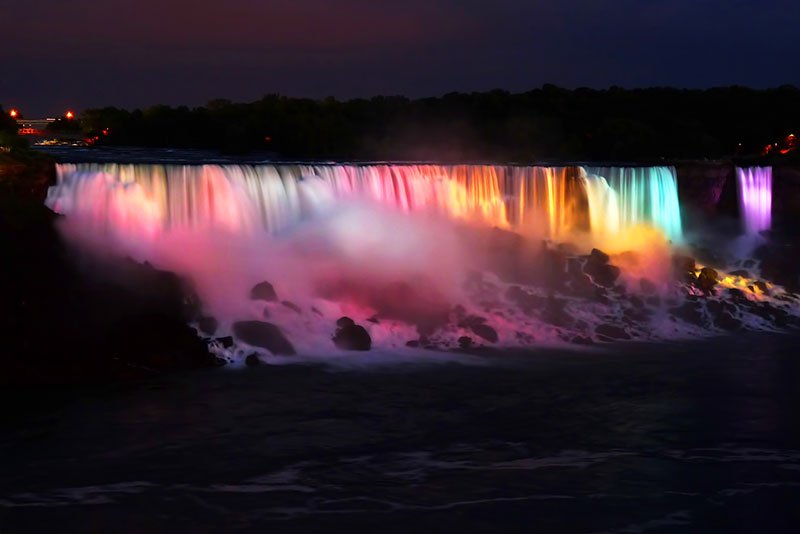 • Taking Behind the waterfall trip attraction gives a chance to see stream of the water inside and out. There is a lift leading to the tunnels to get to the attractions.
• Water here seems green because of washed-out shale and limestone, and brown foam down the water stream is formed by washed-out clay. Because of soil erosion Niagara Falls becomes 30 centimeters smaller every year. According to scientists in 50 thousand years it'll disappear completely.
How to get
If you're in Canada start your itinerary from Toronto. From Toronto Coach Terminal to Niagara Falls town buses run every two hours. The way takes 2 hours, ticket price is 11 USD. You can get on a bus running from local bus station to waterfall for 3 USD.
If you book a one-day excursion from Toronto or Ottawa, you'll be taken to waterfall by plane.
Things to do here
3
Niagara Falls on the map
Open hours
9 am - 8:30 pm