Climb the top of Sugarloaf by the cableway
#1 of 8 things to do in Rio de Janeiro
Sugarloaf is one of Brazil's iconic landmarks, a must-see for all tourists and travelers in Rio. There is no single opinion on how the mountain got its "fabulous" name. Yet, the literal translation means "sugar bread".

To get to the summit of Sugarloaf, use the cableway. Built in 1908, this attraction was the first cableway in Brazil and the third in the world. It is thought to be the most frightening and extreme cableway on the planet thanks to its transparent cabins and the incredible height to which it rises. However, you really shouldn't be afraid!

The only thing that you can expect from this rise is a true delight from viewing the landscapes. You will see the turquoise ocean, the white beach strip, Brazilian skyscrapers and the magnificent panorama of the entire Rio de Janeiro.
Where to do?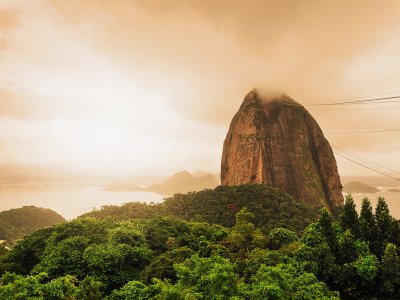 Sugarloaf Mountain
One of Rio attractions that offers stunning views of the entire city from the height of 396 meters
25
Rio de Janeiro
How much?
the cost of travel to Sugarloaf is $53 for adults, $26 for children.
Tips and hints
you can get to the site by taxi. Buy a ticket to the cableway at the ticket office at the lower station, they are open every day from 8:00 to 20:00.