Look at Rome and Vatican City from the top of St. Peter's Basilica
#1 of 3 things to do in Vatican
What is the must-do when visiting Rome? One of the top things to do is to see the eternal city from a bird's eye view by climbing its highest point – the dome of St. Peter's Basilica.

Entrance to the rise of the dome is to the right of the cathedral, when you facing the cathedral. Here you will be asked to go through a metal detector check.

To enjoy this adventure to the fullest you should come to the basilica some time before the opening. If you arrive earlier, you can stroll around the sacred place in solitude, not in the crowd of noisy curious visitors.

When you get to the entrance you will need to decide whether to pay 5 euros and go all the 551 steps up to the top of the dome on foot or make your life easier by paying 7 euros to cover some part of the way by elevator and then the last 320 steps on foot. You should know that the beginning of the rise is quite easy but as you ascend further the rise is becoming quite an endeavor.

With each next stair-well the passageway is getting narrower, the spiral stairs – steeper and one of the walls is hanging over you. That is why stout tourists should not visit that part of the building for the risk of being stucked under the cupola of the basilica.

The brave hearts who managed to climb that extreme stairs are rewarded by the incredible view of the city. The blue sky and green parks make a perfect background to the majestic edifices and ordinary buildings, all created in a single color. The atmosphere is splendid! When you see all this magnificence you begin to understand why they say that all roads lead to Rome.

St. Peter's Basilica is opened for visits from 7:00 am, and the entrance to the dome is opened from 8:00 am. The entarance closes at 05:00 pm.
Where to do?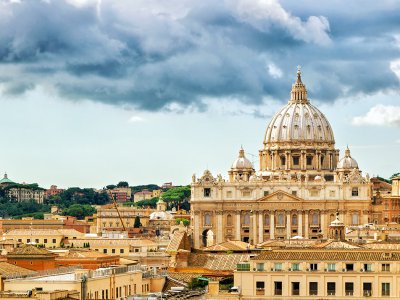 St. Peter's Basilica
This basilica gathered under its arches, numerous works of art, however, it is a masterpiece of Italian architects in itself.
82
Vatican City
Location:
St. Peter's Square
Open hours:
from October to April from 9:00 am to 04:00 pm, in summer from 9:00 am to 07:00 pm. Every Wednesday morning the Cathedral is closed; this is the time for the Pope's audiencia.
Phone:
+39 800 038 436
Official website:
http://vatican.va
How much?
5 euros if you prefer to get to the top of the dome on foot or 7 euros if you want to cover some part of the way by elevator.