Adventure Rating
in Lisbon
TOP-7 adventure's step-by-step
recipes & lifehacks
How to ride the yellow train in Lisbon
How to ride the Elevador di Santa Justa in Lisbon
How to have a port beverage at Estrela garden in Lisbon
How to visit a concert in Fado Museum in Lisbon
How to taste the Portuguese wines in Chafariz do Vinho Winery in Lisbon
How to see sunset at Jardim do Torel in Lisbon
How to taste a cacke by the recipe of 1837 in Lisbon
7 things to doin Lisbon
Elevador di Santa Justa
#1 of 7 places to visit in Lisbon
Designed by Raul Messner du Ponsar - Elevador di Santa Justa built over a hundred years ago. Its purpose as a link between Rua do Oro street and Largo do Carmo square.

Inhabitants of the city often use the services of an elevator for daily purposes, but designed iron giant designed in a neo-gothic style attracts travelers and visitors as well.

The lift operates with electric engines. The lift cabin with 20 person capacity delivers people to the spacious area of Largo do Carmo and another cabin for 15 persons delivers people downwards from the square to Rua do Oru street.
Things to do here
1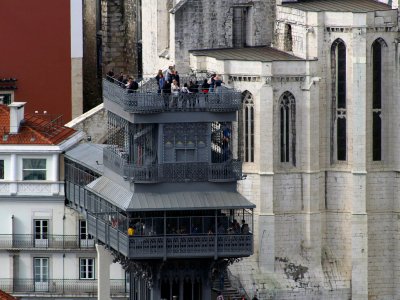 Ride the Elevador di Santa Justa
For any traveler who finds himself in Lisbon, Elevador di Santa Justa will be a real disclosure. Get yourself a selfie on a giant neo-Gothic lift 45 meters height.
€6.50
6 Share an idea!
Have an adventure or entertainment idea that we don't have yet? Share your idea with other adventure-seekers!
Elevador di Santa Justa on the map
Location: Rua do Oru street
Open hours
from March to April daily from 7 am to 11 pm, from November to February daily from 7 am till 9 pm