Chafariz do Vinho Winery
#5 of 7 places to visit in Lisbon
Chafariz do Vinho Winery located in an ancient building, built about three hundred years ago. Italo-Roman architecture of the facade and interior gives this place a special charm. Everywhere in the wall recesses and detached shelves there are dusty bottles of old wine.

The menu of the winery contains a variety of Mediterranean dishes and delicacies. Chardonnay and Sauvignon sorts deserve special attention. Along "happy hours" you can taste four sorts of wine for the half of the price.
Things to do here
1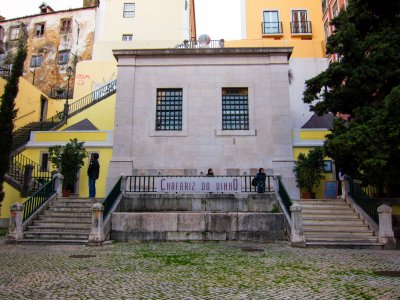 Guest
Share an idea!
Have an adventure or entertainment idea that we don't have yet? Share your idea with other adventure-seekers!
−
Chafariz do Vinho Winery on the map
Location: Praça da Alegria
Open hours
Tuesday to Sunday, from 18 PM to 02 AM
Contacts
Phone: +351 21 342 2079