Take a swim in Cenote Ik Kil
#2 of 5 things to do in Cancun
Cenote Ik Kil is an unusual natural cave. A lake formed at its bottom and you can take a bath in it! There is no gently sloping approach to the water, so there are special wooden ladders into the water for the swimmers' convenience. The lake is quite warm; the water temperature is around 23ºС.
Where to do?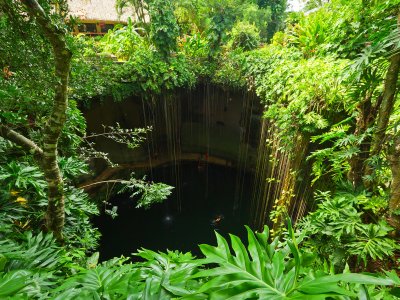 Ik Kil
After a plunge into the enigmatic Ik Kul Cenote in the Yucatan peninsula, you can explore the centuries-old Mayan mysteries.
15
Cancun
Location:
Carretera Costera del Golfo,97751 Chichen Itza, Yuc.
Open hours:
daily from 09:00 to 17:00
Phone:
+52 985 851 0039
Official website:
http://cenote-ik-kil.com
How much?
the entrance fee is 70 pesos for adults and is 35 pesos for children.
Tips and hints
bear in mind that the rules of Cenote Ik Kul require that the visitors take a mandatory shower before bathing. It is necessary to rinse off creams and lotions to keep the water in the cenote clean. Bring with you only the most necessary items: a swimsuit and a towel, then you won't have to rent a lock in the lockers.

If your swimming skills leave much to be desired, it is better to rent a life vest to feel safer. And if the water is your element, then take the risk of jumping off the 25-meter high ledge of the well. You can make a photo and video record of your feat in this unique place.