Oddviser
adventure's step-by-step
recipes & lifehacks
How to ride a board on volcano in Nicaragua?
How to walk inside the active volcano in Greece?
How to feed flying dogs in the jungles of Thailand?
How to cycle along the Great Wall of China?
How to swim in the famous Trevi Fountain in Rome?
How to ride a kayak along the canals of Venice?
How to walk on the roofs of skyscrapers in Dubai?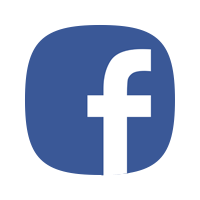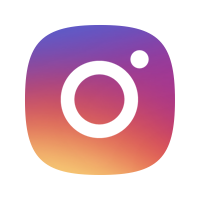 Find out how to go rafting independently and what to expect from the adventure.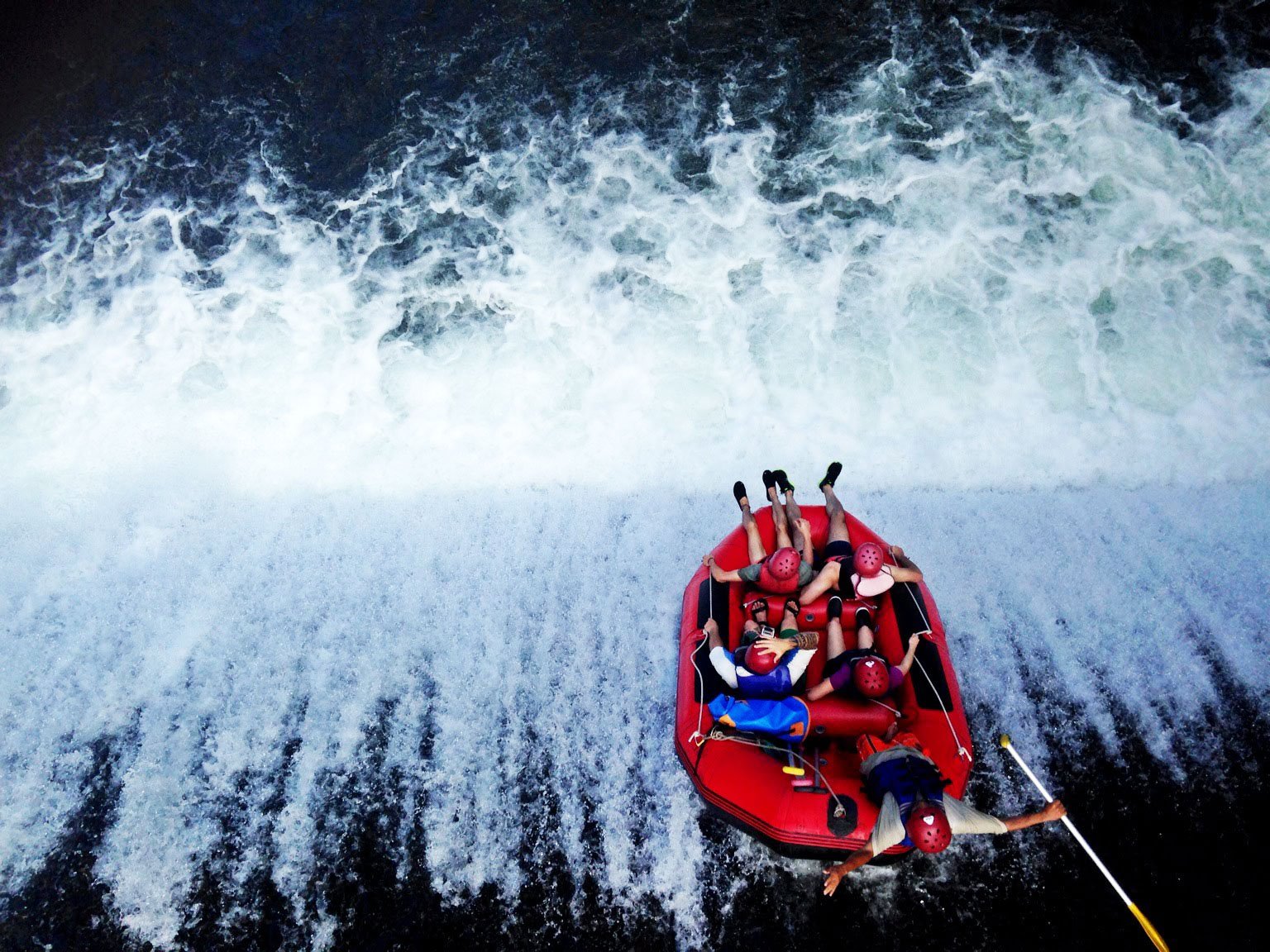 Almost from all resort district of Bali you can get to the place of Telaga Waja rafting for a few hours. Before taking this adventure think twice as this itinerary is a little more difficult and tricky comparing with the similar one down the Ayung River.
What to take with you?
Don't take a huge bag filled with provision and water. You can have a snack or buy refreshing drinks right here (for 25 rupees). It's important to take with you the following things:
1. Towel.
2. Dry clothing and second pair of shoes.
3. Some money.
4. Sunscreen (SPF 50), apply it in advance.
All this stuff is kept in the box on the quay, and the key on a string you'll hang on your neck.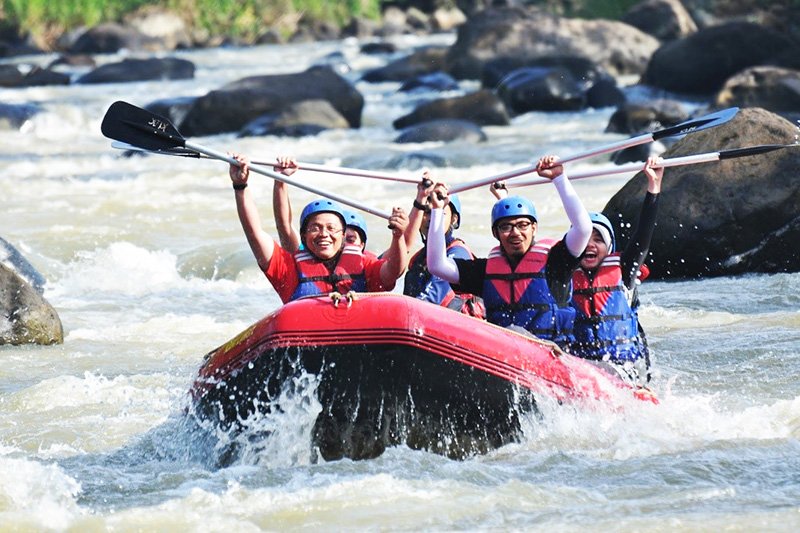 Photo: Telaga Waja
How to do?
You can contact one of the local agencies to take the adventure - they arrange transfer, food supply and take care of your safety. It will cost you 50 dollars on average. If you arrange the trip on you own, you won't spend more than 30 dollars.
1. Take a taxi to get to boat station, a rented bike drive will take much more time. The way will take 2 hours if you go from Kuta by car. On the station you'll get a life-jacket and a helmet. Don't neglect the safety measures: the river is capricious! Then you'll be "loaded" into the car that is heading right to the place where rafting starts.
2. Here you can look around, find your instructor (at the number on a paper sticker that you are given before), drink a cup of Bali drewed coffee.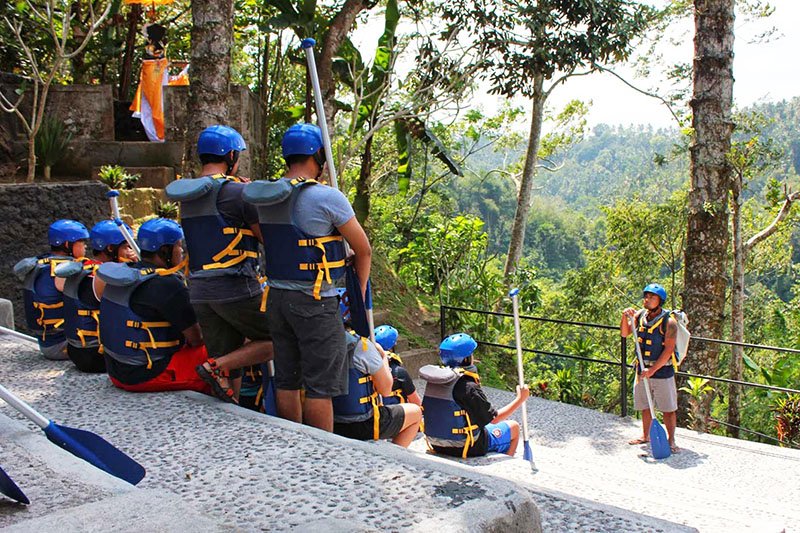 Photo: Telaga Waja rafting
3. Before getting on a boat leave your items of value in "capitan's" water proof bag. The bag will be with him during the voyage. Each boat can hold 5 passengers including the instructor. He is sitting astern. Everyone has to row a boat! Don't get sloppy (what is the point?) otherwise the instructor will have to set the boat in the right direction on his own and it's pretty difficult.
4. The adventure starts with instructions, keep in mind all the commands!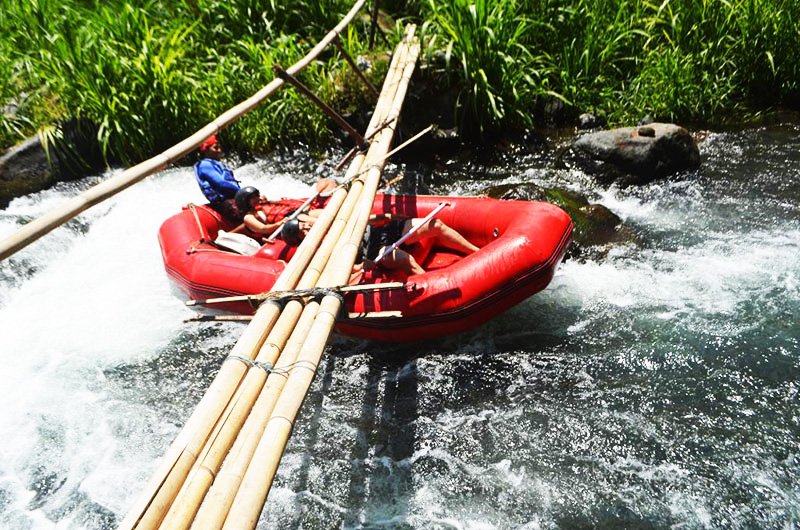 Photo: Telaga Waua rafting
5. The itinerary takes 3 hours, there is one stop - near the waterfall - here you can take a rest and some photos.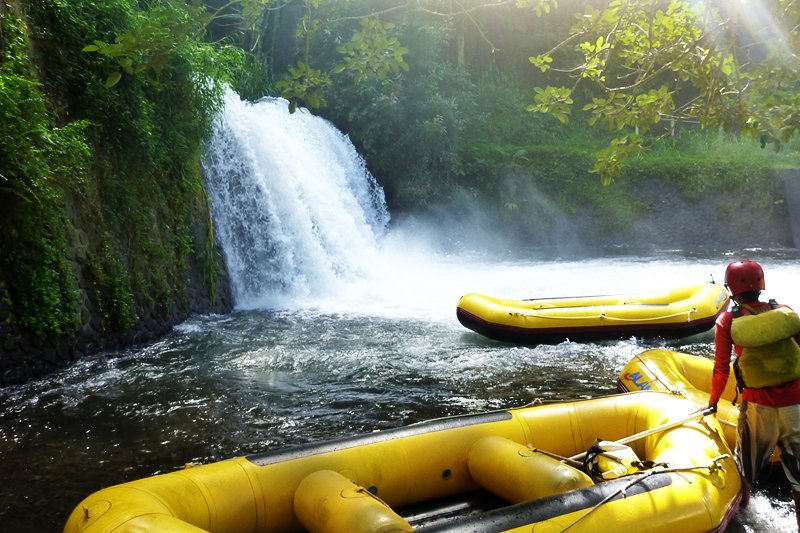 Photo: Waterfall
6. In the narrow or rocky areas of the river bed you can run into other boats - at best it involves screaming and splashing at worst you can get hit by a paddle.
7. A concluding chord is descending a 4-meter high rift. The height is not so high, right? But what would you say sitting in a rubber boat in the middle of rough river falling into the unknown. And the funniest thing is a photographer waiting for you at the bottom to capture your face full of emotions. You can buy the photos after rafting, in a local restaurant. Your true face will cost you 200 rupees.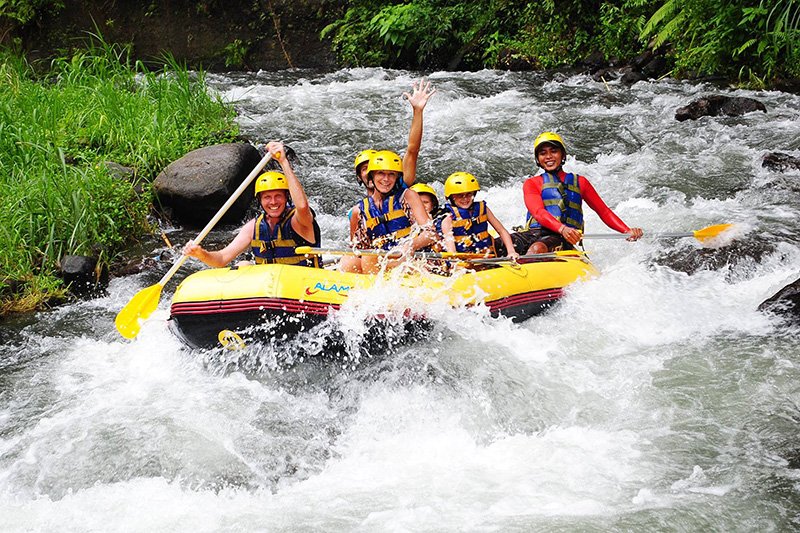 Photo: Telaga Waja rafting
When to do?
It's better to go rafting down Telaga Waja early in the morning. Take substantial breakfast. You will definitely need a lot of energy.

Don't plan anything for the evening after rafting.
Tips and hints
From the very first seconds till the last moment the boat can bowl over and shake off the passengers. The frequency of this boat trick depends only on the skills of passengers.

All kind of heelless shoes, flip-flops, sandals, sabots will cause troubles. Sneakers are the best footwear. Of course you'll get them wet, but you won't lose them and you won't get your feet hurt.