Adventure Rating
in London
TOP-6 adventure's step-by-step
recipes & lifehacks
How to take a ride on the London Eye in London
How to make british guard laugh in London
How to pay a visit to Sherlock Holmes in London
How to fly on a hot air balloon in London
How to feed a fawn in Richmond Park in London
How to see Jack The Ripper's victims in Madam Tussauds Museum in London
6 things to doin London
Sherlock Holmes Museum
#3 of 6 places to visit in London
When Sir Arthur created his character, there was no Baker street, 221b address. Later, when the street was extended, The Sherlock Holmes Museum first started it work in house 239, but finally the building was renumbered to 221b. Also it has the blue plaque in memory of it's famous "resident".
Things to do here
1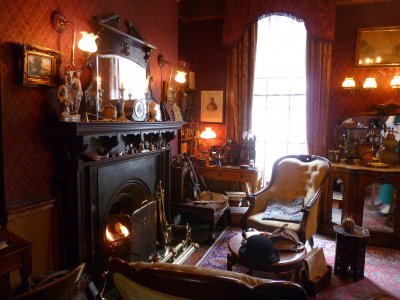 Pay a visit to Sherlock Holmes
On the way from Madam Tusso Museum to the Regent's Park make a little stop to have a rest in Sherlock's armchair.
£15
9 Share an idea!
Have an adventure or entertainment idea that we don't have yet? Share your idea with other adventure-seekers!
Sherlock Holmes Museum on the map
Open hours
from 9:30 am to 6 pm
Contacts