Swim in Na Mueng 2 Waterfall
#5 of 14 things to do on Koh Samui
There are two Na Muang waterfalls in Ko Samui: the first one is 18-meter tall, and the second one is a whole 80 meters! It's the latter water giant that attracts thousands of tourists – particularly between October and December, during the rainy season, - at this time of year Na Muang 2 is a sight to behold. In order to revel in this place's special atmosphere on your own, do come early in the morning or in the evening and make sure you've climbed high – the tourist stampedes come here mainly at daytime and are not keen on ascending. At the bottom level of Na Muang 2 you can take a swim, although beware of the cold water – its temperature does not raise above 17 °C.

Right at the bottom of Na Muang 2 Waterfall lies the Safari Park. Here you can find lots of various attractions, including the traditional riding an elephant, a zoo, an animal show, some shops and restaurants.
Where to do?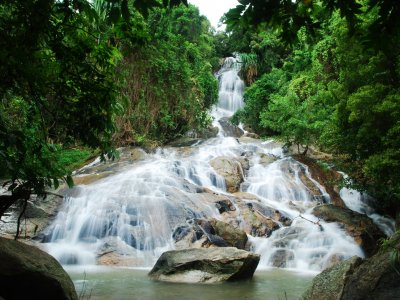 Na Muang 2 Waterfall
You can admire the magnificent view of the enormous Na Muang 2 waterfall for hours on end – for this beauty is 80-meter tall!
9
Koh Samui
How much?
Fees: entry fee is 50 baht per person.