Go for elephant trekking
#6 of 14 things to do on Koh Samui
Namuang Safari Park boasts a location right in the deep jungle, by the foot of the famous 80 meter Na Muang 2 waterfall. This place abounds in scenic views, and tourists can take advantage of various activities set up in the gorgeous nature background. The most popular and favorite one is an elephant show that comprises performances by monkeys, crocodiles, birds and snakes. You can take pictures with the animals and even feed the elephants. The next in rank is elephant trekking across the picturesque jungle – here taking a photo may entail a fee, but the bright and colorful pictures are definitely worth it! In the course of the ride, you will be offered a swimming break at the foot of the waterfall.
Where to do?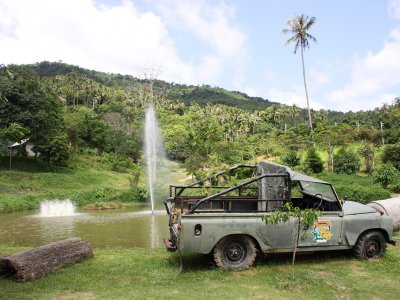 Namuang Safari Park
The safari park constitutes an unusual sanctuary/zoo located right in the jungle.
9
Koh Samui
How much?
Fees: an elephant ride (half an hour long) will cost 700 baht for adults and 600 baht for children. An elephant ride (half an hour long) with a stop at the waterfall costs 900 baht for adults and 800 baht for children. A 45-minute ride with the waterfall included is 1100 baht for adults and 1000 baht for children.