Swim on the edge of Victoria Falls
#1 of 1 things to do in Livingstone
This entertainment is so dangerous and insane, that not everyone can put to risk their lives. But the most extreme adventurers come here just for this feeling. And if you're one of them – the Devil's Pool is at your disposal.

Devil's Pool is on the edge of Victoria Falls, the largest sheet of falling water in the world. The pool is at the altitude of 120 meters, its depth is about 3 meters, its length and width are no more than two meters each. This place is always shrouded in mist and spray from the water flow crashing down. That is why the natural swimming pool got its impressive name. Moreover, in the ancient times the waterfall was considered a sacred place. Witches and priests performed their rituals and sacrifices near it.

In fact, spa procedures on the edge of the waterfall are really unsafe. So, if you determined to go for this adventure, it is better to do it in the dry season – from September to December, when the flow of water is not as powerful. In addition, the beginners are recommended to use the service of a guide who will advise on the safest place for swimming.

Of course, accidents happen in the Devil's Pool: on average one person perishes here annually. Therefore, caution must be the ultimate priority for swimmers.
Where to do?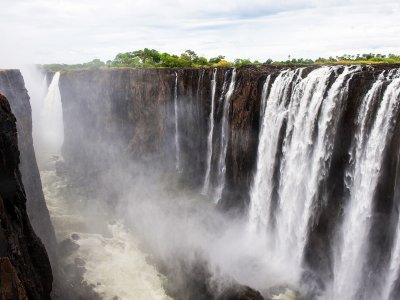 Victoria Falls
One of the largest waterfalls on the planet has a length of about 1800 meters. More than 500 million liters of water per minute crash down in Victoria Falls.
23
Livingstone