Former fortress of the 5th century with a Buddhist temple at the top. It is called the Eighth Wonder of the World.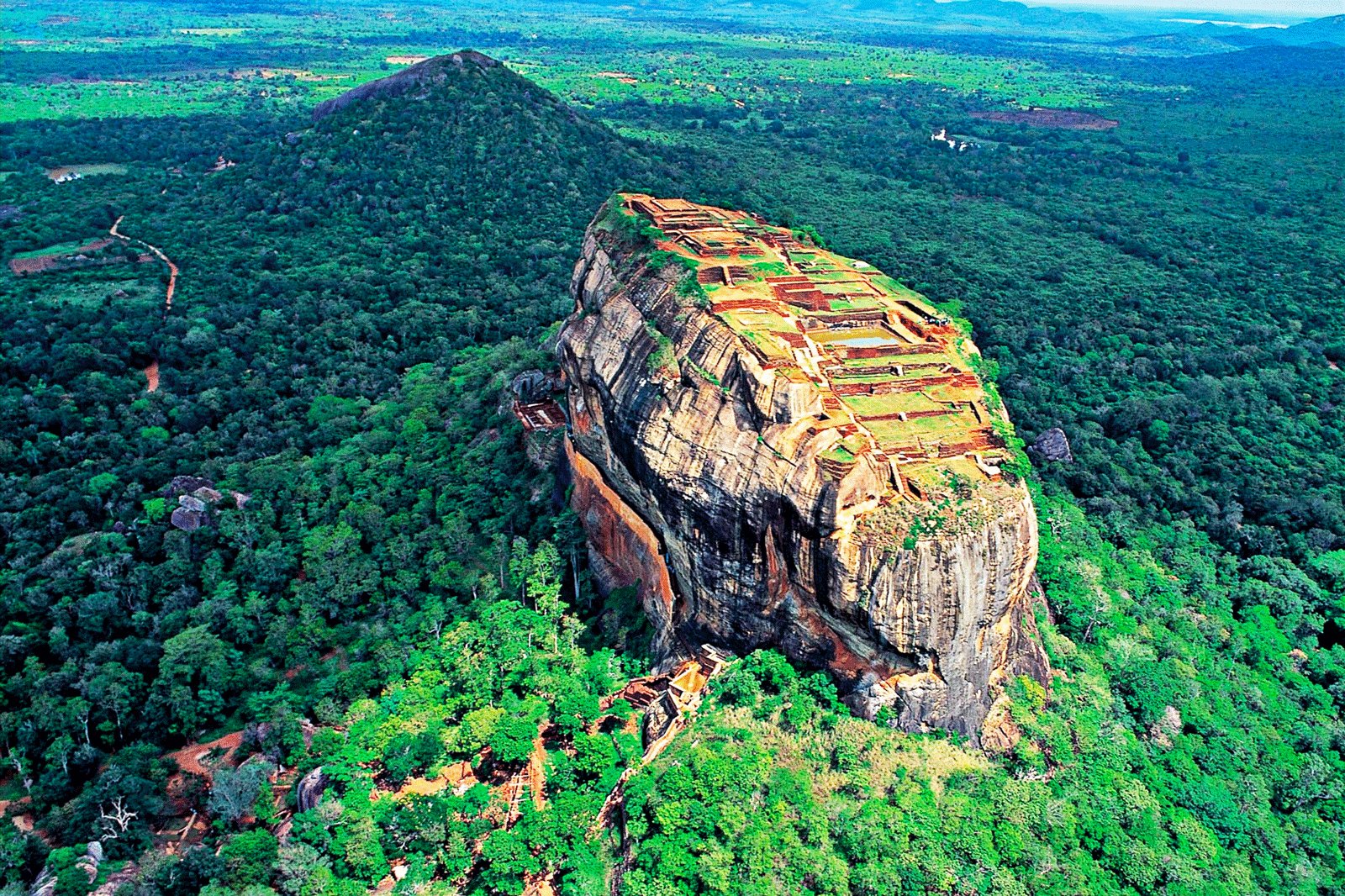 Sigiriya rock rises over the jungles by 180 meters. The Sinhalese name stands for English the Lion Rock. XII chronicle calls the place the Lion Rock. The old held a lion as a symbol of the state.
Since 1982 the rock has been a UNESCO listed World Heritage Site. Sigiriya is one of the points of the Cultural Triangle itinerary.
Interesting facts
• At the end of V century King Kasyapa build palace fortress on the rock and set gardens around.
• The path to the fortress lies through the Lion Gates. Today you only paws of once huge lion left.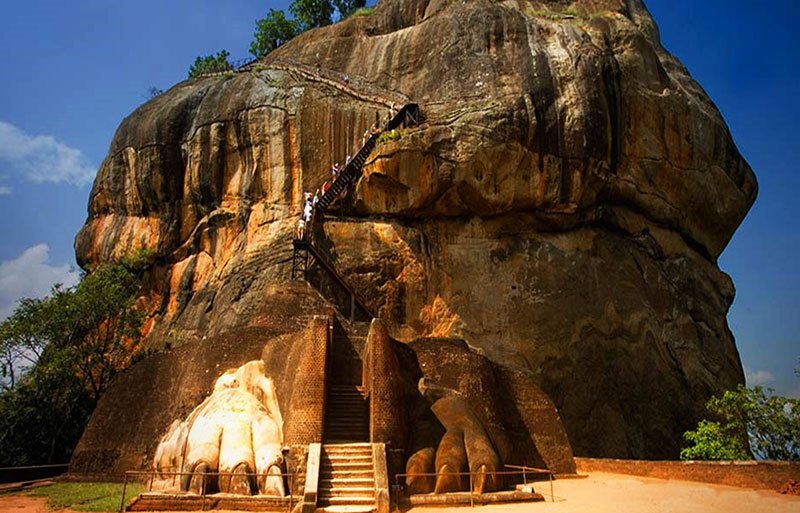 Photo: Sigiriya Lion Rock, © Steve Lesko
• At the courtyard you can see frescoes, but only 19 images left out of 500.
• The ceiling of the Cobra's Hood hall is decorated with Kasyapa biography wall paintings. In the fortress stone king bedroom and stone throne are kept.
• Excavation revealed that there was a Buddhist temple of II century AD. Cave halls of western and northern slopes are its parts.
• Some scientists don't consider Sigiriya to be a palace as there are no rooms, bathrooms, no columns to hold the roof. It is considered to be a temple complex of Buddist sect Mahayana.
• The Europeans got to know about Sigiriya in 1907.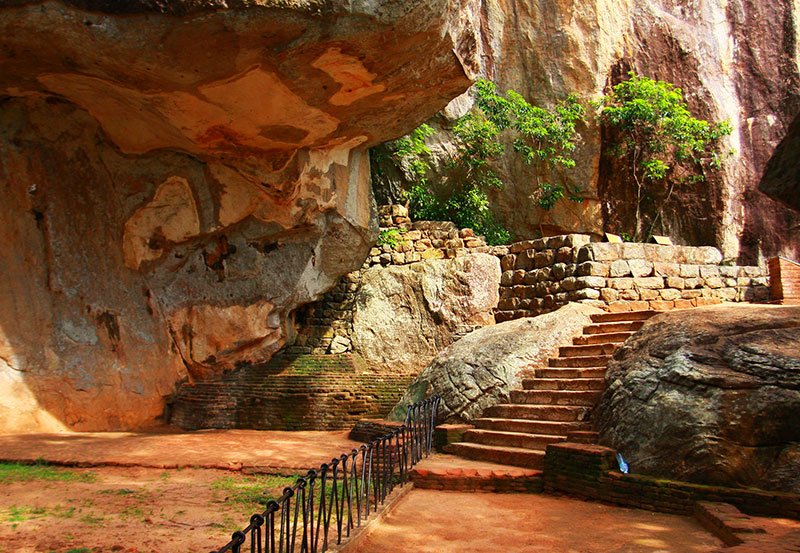 How to get
The distance from Colombo to Sigiriya is 175 kilometers, the way takes 4 hours. Take A1 and A6 highways, and then turn near Inamaluwa village.
You can get to Sigiriya rock from Dambulla by bus, it takes 40 minutes, bus fare is 50 cents. Return tuk tuk ticket costs $16.
Adult ticket costs $36, children ticket - $18. A the bottom of touristic path you can find Russian speaking guide.
Tips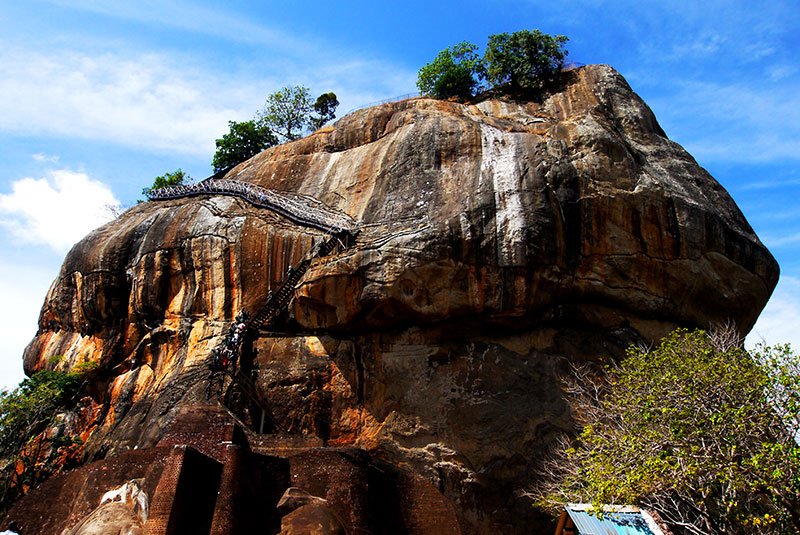 • It takes almost two hours to climb the rock. First half of the day is more comfortable for visiting, as later it gets hot. You should put on closed footwear, take a sunscreen and a headwear.
• There is a cafe but only at the bottom of the rock, so you'd better grab some water. But there are no WC at the top.
• After descending unwanted salespeople wait for travellers. If you want to buy a souvenir, be sure stuff is overpriced, sometimes even 10 times, so haggle!
• Monkeys inhabit these places, they are not fearful and wait for treat.
Things to do here
1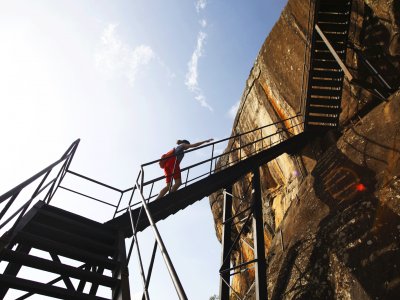 Climb Sigiriya Lion Rock
Sigiriya rock used to be a king's residence in V century. Ruins of the palace and painted frescoes still reminds of exuberant royal past.
LKR 3900
14 Know more things to do?
Share your ideas of what to do in Dambulla with other travellers — together we'll make our travellings more interesting!
Sigiriya Lion Rock on the map
Location: Sigiriya town
Open hours
8 am - 5:30 pm