Feed giant hundred-year-old turtles
#1 of 2 things to do in Port Louis
In Mauritius, not far from the village of Chamarel, there's the Seven Colored Earths reserve, which owes its names to the unusual sand dunes. The island visitors come here to see the amazing phenomenon and feed giant tortoises along the way.

There are about a hundred reptiles, living in the fenced area. You can dare pat one of them. Let alone patting, take some grass and feed a giant hundred-year-old tortoise with it.

Many park guests even try to ride these animals. The tortoises react calmly to such backslapping treatment and actually give a ride to some of the visitors. However, most often they just lie on the ground and wait until the "rider" loses interest and gets off the carapace.

The hundred-year-old giants got used to people and don't mind a bit being patted on their head or carapace. Moreover, for a tuft of green grass, they will even try to go for a run to the best of their ability.
Where to do?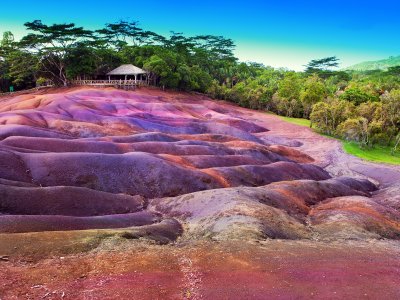 The Seven Colored Earth
Sand dunes, with seven colors playing out on them, are an incredible natural phenomenon on the island of Mauritius.
12
Port Louis
Location: the Chamarel plain

How much?
you can feed the tortoises absolutely free of charge, but you have to pay 150 rupees per person to enter the park area.
Tips and hints
terminals often do not work, so be ready to pay in cash.