Here, you can see all kinds of crocodiles, swim with them, and also hold newborn crocodiles in your hands.
This park is unique. There are almost all types of crocodiles there. People created for them the conditions as close to their natural habitats as possible. Numerous visitors, including children, are attracted by the local museum, as well as the opportunity to become better acquainted with crocodiles of all ages and sizes, from 30 centimeters to 5 meters in length.

Crocosaurus Cove is so unique for all the incredible variety of attractions featuring crocodiles. The most impressive adventure is certainly diving in the Cage of Death. The bravest visitors are placed into an acrylic box and lowered into the predator's lair. In addition, you can feed crocodiles, hold in hands newborn baby crocs, as well as be photographed with any inhabitant of the park.

Apart from the reptiles, the park accommodates mammals and birds: leopards, macaques, lions, wombats, cattle egrets, Polynesian megapodes, southern cassowaries, and others. The staff of the park study crocodiles and other animals with dedication, promoting a delicate attitude to the wild nature.

Entrance fee is $40 for adults, $30 for seniors, $20 for children (3-15 years), $105 for families (2 adults and 2 children or 1 adult and 4 children).
Things to do here
1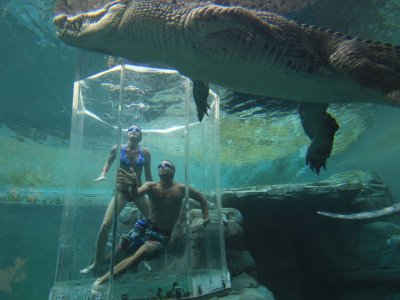 Dive in the Cage of Death 
Go to Darwin Crocodile Park that has no analogues in the world where you can swim with giant reptiles and watch the feeding process.
AU$150
14 Know more things to do?
Share your ideas of what to do in Darwin with other travellers — together we'll make our travellings more interesting!
Crocosaurus Cove on the map
Location: 58 Mitchell St, Darwin NT
Open hours
the park is open daily from 9:00 to 17:00 (except Christmas)
Contacts
Phone: +61 8 8981 7522