Dive in the Cage of Death 
#1 of 1 things to do in Darwin
The city of Darwin has a huge crocodile park called Crocosaurus Cove. It has no analogues in the world and combines unique attractions, the museum of crocodiles and much more. This is where you can make the ultimate adventure, diving in a special Cage of Death to the lair of the giant crocodile.

This exciting fifteen-minute adventure will give you a burst of emotions, excited heartbeats and a lifetime experience of meeting with an 800-pound reptile. Only the acrylic walls of the container will separate you from toothy predators. The thickness of the walls is more than 14 centimeters. So, the most harmful thing that a crocodile can do to threaten you is leave traces of claws and teeth on the transparent container.

The main characters of this attraction are the most dangerous reptile species – the saltwater crocodiles. You have an opportunity to see the predators devour a huge buffalo, and then dive into the water and make incredible leaps.

Crocosaurus Cove is open daily from 9:00 to 17:00 (except Christmas holidays).
Where to do?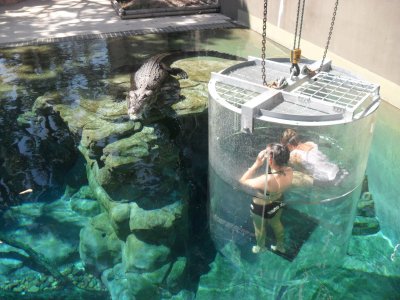 Crocosaurus Cove
Here, you can see all kinds of crocodiles, swim with them, and also hold newborn crocodiles in your hands.
14
Darwin
Location:
58 Mitchell St, Darwin NT
Open hours:
the park is open daily from 9:00 to 17:00 (except Christmas)
Phone:
+61 8 8981 7522
Official website:
http://croccove.com
How much?
the cost of the dive in the Cage of Death is $150.