Oddviser
adventure's step-by-step
recipes & lifehacks
How to ride a board on volcano in Nicaragua?
How to walk inside the active volcano in Greece?
How to feed flying dogs in the jungles of Thailand?
How to cycle along the Great Wall of China?
How to swim in the famous Trevi Fountain in Rome?
How to ride a kayak along the canals of Venice?
How to walk on the roofs of skyscrapers in Dubai?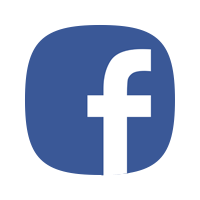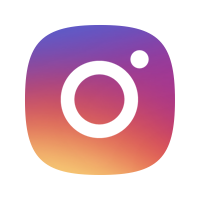 In Katmai National Park and Preserve in Alaska Grizzly bears stroll around their natural habitat and you can watch them with your own eyes.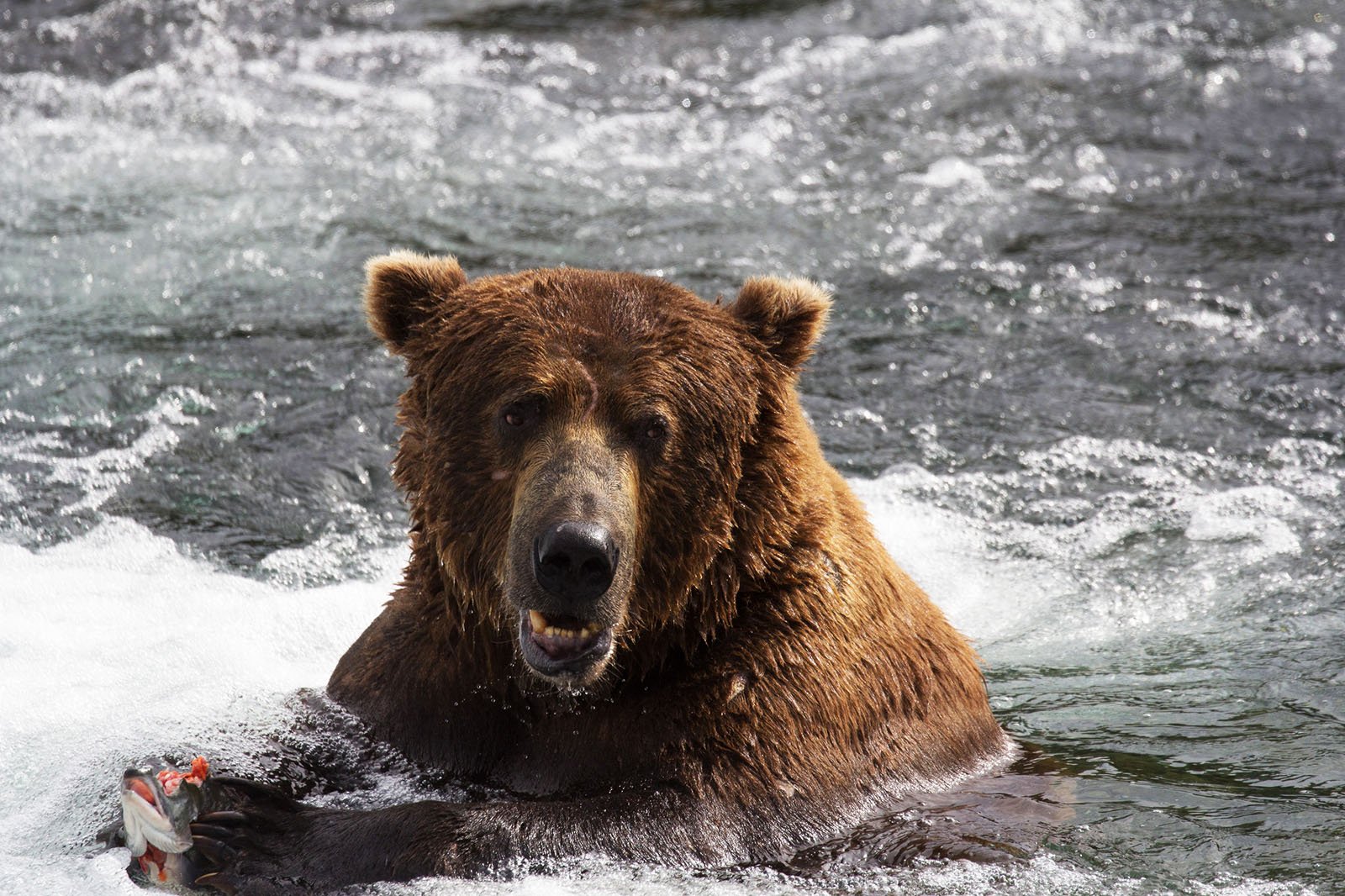 Katmai National Park and Preserve is a conservation area to the south of Alaska State. Because of salmon abundance in lakes here, the biggest number of Grizzly bears in the States - 2100 animals according to the last nose-count.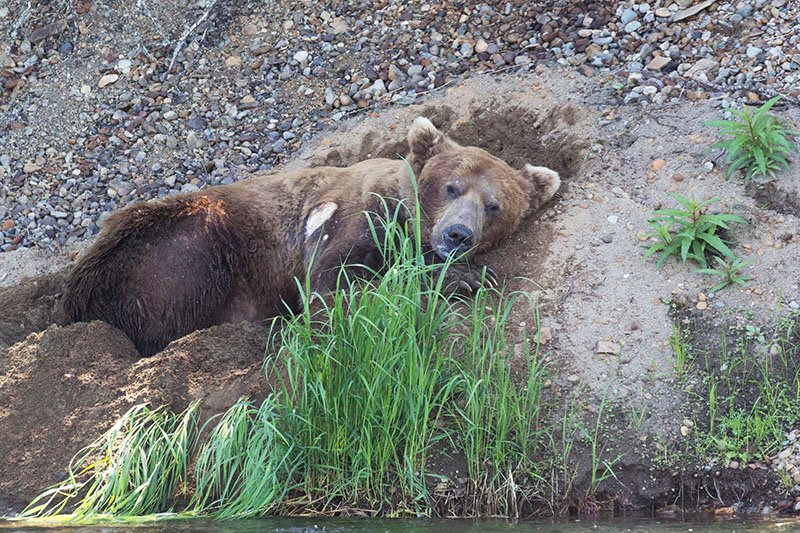 Photo: Bear, © angelsfan
Brooks Camp is the place where Grizzly bears are easiest to see. On the camp territory there are lodges that you can book (better a year in advance), locker rooms for food and personal belongings, canteen and ranger base.
How to do?
1. You can get to Brooks Camp in two ways: by water and by air. There are no roads around! At all! But there are regular flights from Anchorage to King Salmon village. Here you can take a motorboat or water plane. But the cheapest option is to book a tour on the official web-site of the preserve. Flights and overnight stop cost 1500 dollars per person. Here is
a brochure
with 2017 prices. Park visiting, instruction and a lapel pin are free.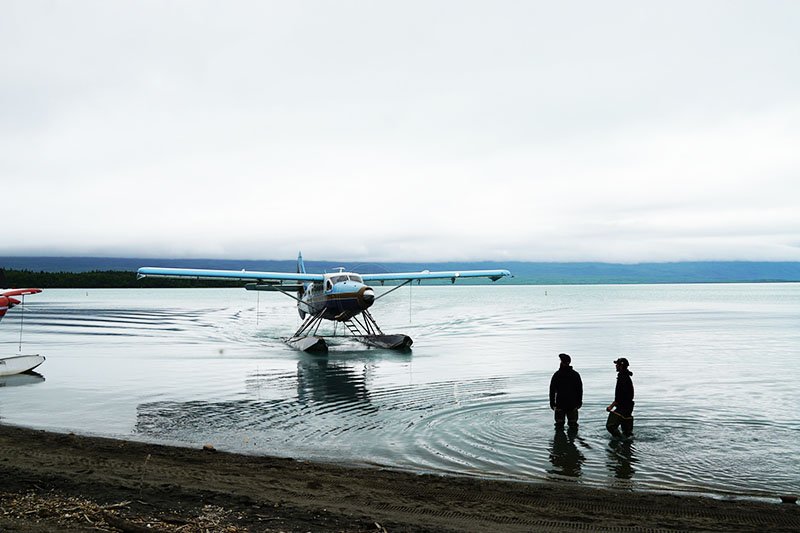 Photo: Brooks Camp, © Aaron Lo
2. In information centre you'll get the instructions: they will tell you to be ware of she-bears with their babies and not to leave your belongings and food and keep the distance of 10 meters. It is important to make noise - stamp your feet, scream, whistle just to let the bears know you are near them. And it's really important! Spur-of-the-moment meeting with a stunned Grizzly bear is not a pleasant thing!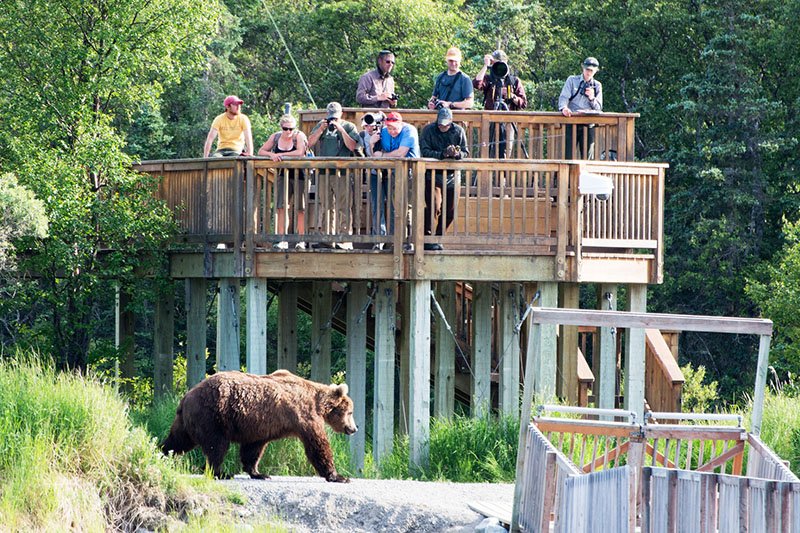 Photo: Viewing Plattform, Brooks Camp, © Christoph Strässler
3. After this you can stroll along forest paths, get to the Brooks Falls where you'll see lots of bears trying to catch sockeye salmon in the waterfall. On the bear spots rangers are always on duty. They warn about possible danger and sometimes they close some paths and park's bridges.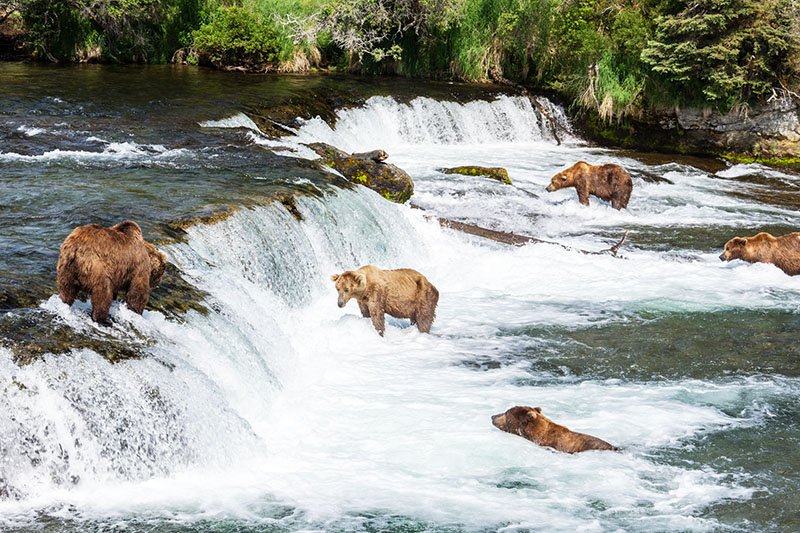 Photo: Brook Falls, © Christoph Strässler
4. You can watch Grizzly bears for long hours. These animals are smart, funny and charismatic just like human beings. Among them you can find fighting machos, lazy beggars, caring bear-moms and babies, naughty bears-teenagers. And there are no any partition-walls between you and bears.
5. After walking you can go fishing in the park. When it is spawning period it is easy to catch a big sockeye salmon. On the park territory there are special rooms for fish filleting. Doing this in other places is forbidden as the smell can draw curious bears.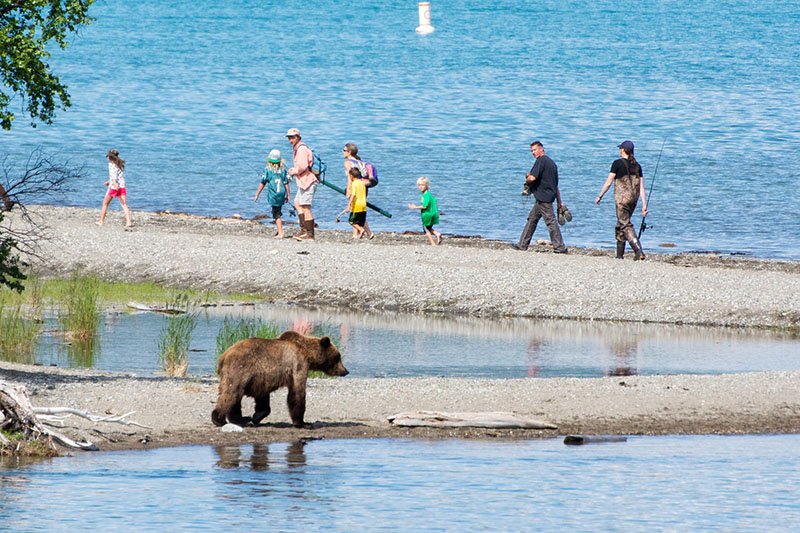 Photo: Brooks Camp, © Christoph Strässler
Where to do?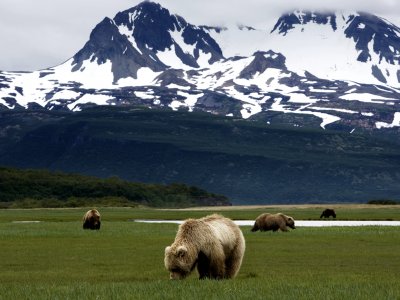 Katmai National Park and Preserve
An ideal place for photo hunting on brown bears, but it's better not to approach really close because they can consider that you are more savory than salmon :)
12
Location: in the southern part of Alaska.

When to do?
The park is open for visitors all year round, but the best time is from June till October. In June when it is spawning high season you can meet the biggest number of bears. In this period fish is everywhere. Only a lazy bear won't hunt.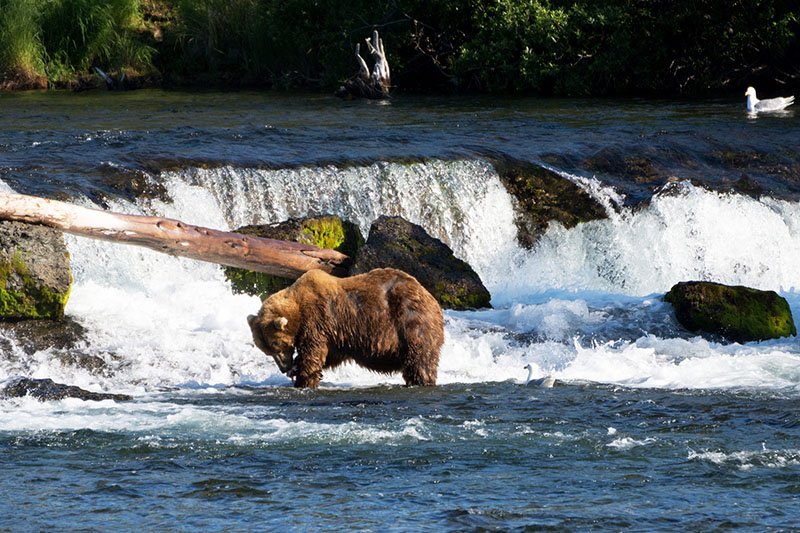 Photo: bear, © Christoph Strässler
Tips and hints
• In Brooks Falls there is a canteen with salad bar, hot dishes and desserts. Full meal costs 74 dollars, but you can take separately breakfast for 17 dollars, lunch for 24 dollars or dinner for 40 dollars. Inside the diner there is a fire place with arm chairs and table games, a bar and a terrace. Sitting on the terrace drinking beer and watching the bears swimming is the best meditation.
• There are lot of mosquitoes in the park. It is forbidden to apply repellent, so mosquito cream or mosquito net will definitely come in handy.
• You can watch online broadcasting from the park about Grizzly routine
here
and thus get ready for a trip.