Swing at the edge of the world
#1 of 1 things to do in Banos
There exist a lot of extreme entertainments, but one ordinary looking swing in Ecuador will give a head start to many of them.

The swing is located literally at the edge of the world, and swinging can cost you as much as your life. But even if fear is going to cause you a pianist's cramp and your heart is going to sink to your boots, you will still take the chance of swinging over the abyss, won't you?

The place, where the swing is situated, is not an attraction in a theme park. Not in the least. It is just a seismic monitoring station and it is called simply "the Treehouse". Travelers go up to the Treehouse in pursuit of breathtaking views over the active volcano and picturesque surroundings, opening up from there. Daredevils take the advantage of this unique opportunity and swing over the abyss like children in a park.

The swing is just a narrow board, hanging loose on wire cables, fixed on metal supports. The construction doesn't seem to be reliable enough, but very few are restrained by this. You can swing over the abyss absolutely free of charge — it's a kind of a bonus for thrill seekers who came to this place.
Where to do?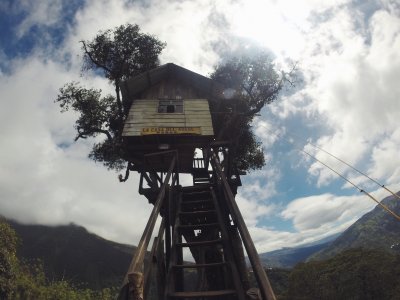 Treehouse in Banos
Probably, the most exotic office in the world is the seismic monitoring station called Treehouse with breathtaking views around it and a swing on the brink of an abyss.
21
Banos
Location: Baños Canton

How much?
entrance fee $1