20

places to visit in Chile

all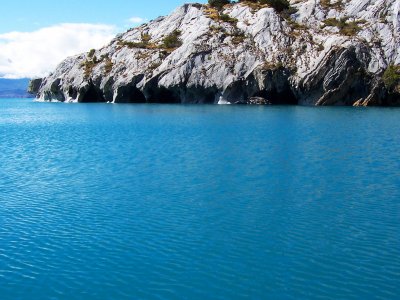 General Carrera Lake in Coyhaique
The lake surrounded with the Patagonian Andes is located on the border of Argentina and Chile. The lake is known for its marble caves that can reach 30 meters in depth. Get to here from Puerto Rio Tranquilo by boat.
1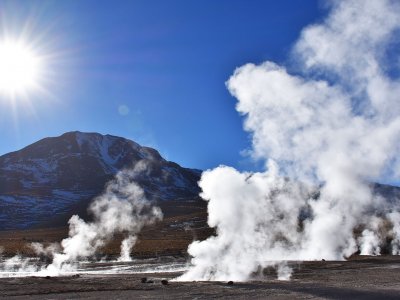 El Tatio Geysers in San Pedro de Atacama
Geyser valley that has more than 80 active springs is situated in the Atacama Desert - 90 kilometers south from San Pedro de Atacama town. The road to the place is rough, so you'd better take a tour bus.
1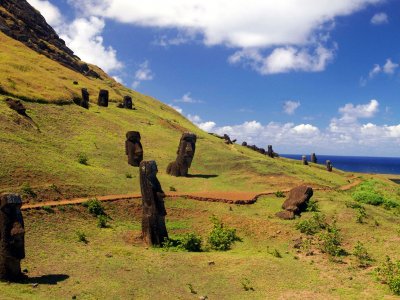 Rano Raraku quarry on Easter Island
Rano Raraku is located 20 kilometers eastward from Hanga Roa. The place is well-known for Moai figures. It is open from 9:30am till 6pm. Entrance ticket (you can buy one only at the airport or at CANAF office) is $60.
1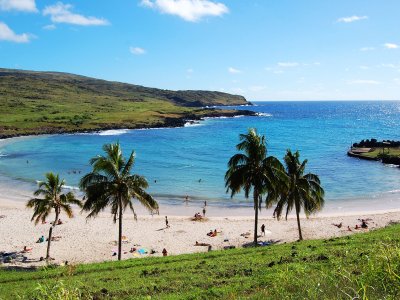 Anakena beach on Easter Island
One of a few beaches where it is allowed to swim is a 30-minute drive from Hanga Roa. You can come here for all day long - there is a parking lot and a few cafes. The most favourable season is from December till April.
1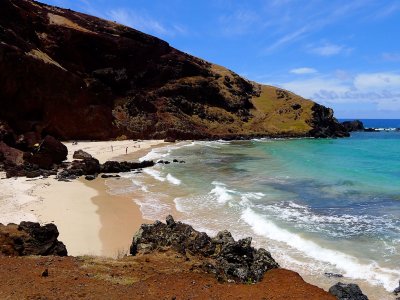 Ovahe Beach on Easter Island
Ovahe beach is a 18-kilometer drive northeast from Hanga Roa and a 15-minute walk from Anakena beach. There is no lifeguard stands, no cafes and no toilet facilities as officially is not suitable for swimming.
1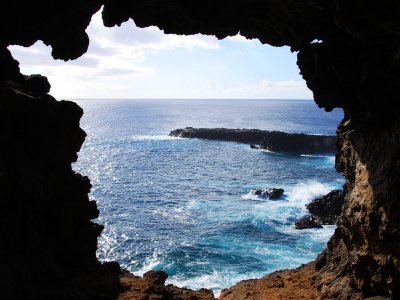 Ana Kakenga cave on Easter Island
The cave is located in the west coastline of the island. The entrance is a small hole in the ground. Inside the hole there is a path divided into two divergent corridors that end in two openings with view of the ocean.
1

Valle de Elqui in La Serena
The valley is located 70 kilometers eastward from La Serena. The place is known for its vineyards and wineries, the clearest sky to go stargazing.
1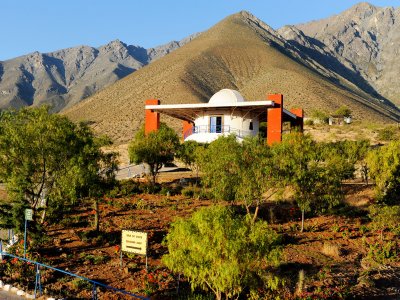 Mamalluca Observatory in Vicuna
The observatory is located 9 kilometers northwest from Vicuna. It is open around the clock, entrance ticket is 7000 pesos. Except for 12-inch telescope here you'll find a diner and a souvenir shop.
1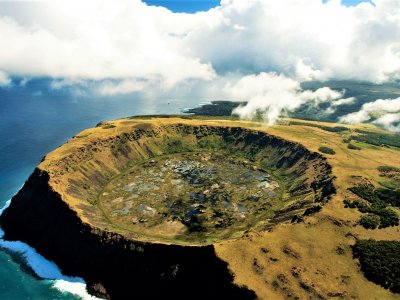 Rano Kau volcano on Easter Island
200 000-year-old crater of extinct volcano is located in the southwest of Easter Island - 3 kilometers from Mataveri International Airport. There are 7 lakes and Orongo ceremonial village on its territory.
1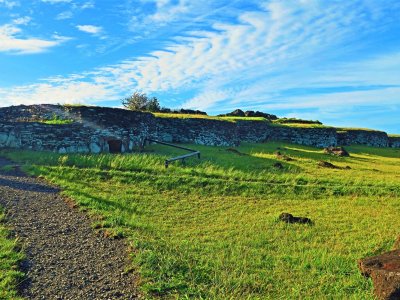 Orongo ceremonial village on Easter Island
In the west of Rano Kau crater Rapa Nui people build a ceremonial village to elect a headman. To get here go along the edge of the crater from Mirador Rano Kau.
1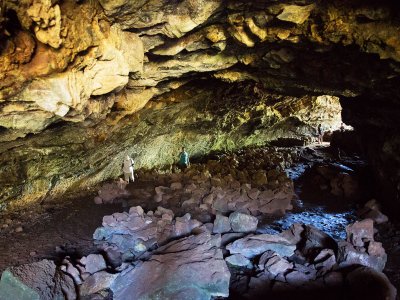 Ana Te Pahu Cave on Easter Island
Ana Te Pahu is located on the foothill of the Maunga Terevaka, one and a half kilometer northward from Akivi. You'll see a wooden gate with a sign saying Las cuevas Te Pahu - there are stairs to descend to the cave.
1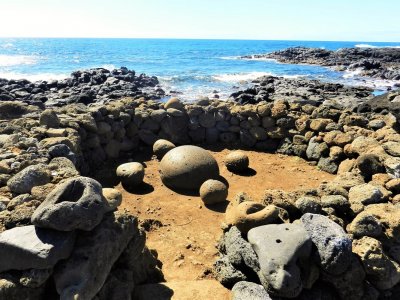 Te Pito te Henua ceremonial centre on Easter Island
It is located 26 km northeastward from Hanga Roa. The place is famous for a one-meter-in-diameter stone that is considered to be the Navel of the World.
0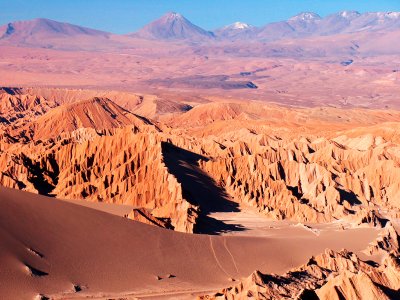 The Atacama Desert in San Pedro de Atacama
The driest place on Earth is located on the north of Chile - 90 km west-south from San Pedro de Atacama. The most favorable period to come here is from April till December.
0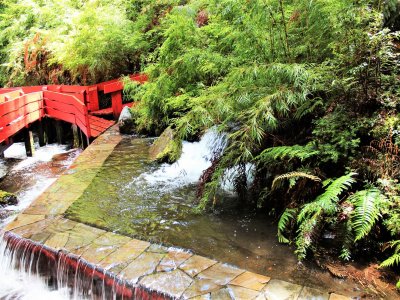 Termas Geometricas in Pucon
Termas are located 60 kilometers from Pucon. There is no regular transport running to the place, you can take a taxi or join an excursion group. It's open daily from 11am till 8pm. Taking a bath is about $30 for adults.
0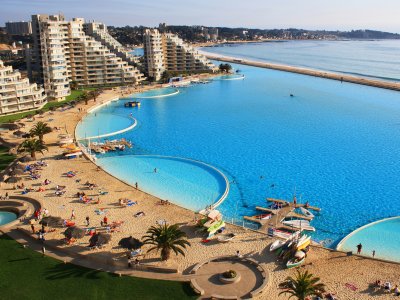 San Alfonso del Mar in Algarrobo
San Alfonso del Mar is a private resort located 3 kilometers northward from Algarrobo city. It is known for one of the world's largest swimming-pools that holds 250 million liters of water and occupies an area of 8 hectares.
0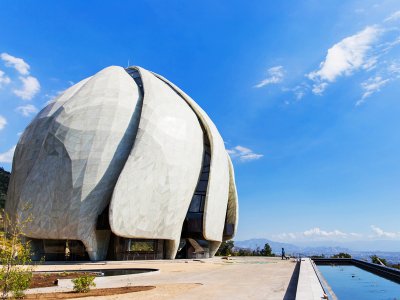 Baha'i Temple of South America in Algarrobo
It is located 19 km from the centre, in Penalolen commune. It is open till 6pm on weekdays, and till 8pm on weekends. You can get by bus leaving from Grecia metro station.
0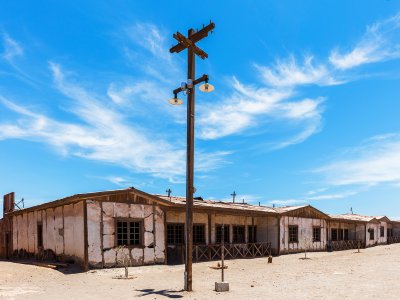 Humberstone in Iquique
The ghost town is located 48 kilometers eastward from Iquique city. To get to the abandoned town you can take an excursion or take a bus. Every year in November you can visit a festival here.
0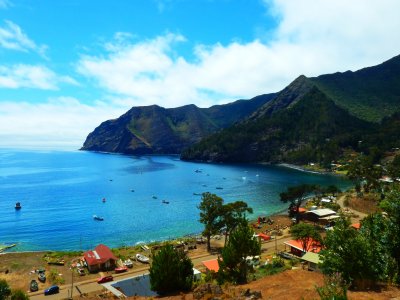 Robinson Crusoe Island in Valparaiso
One of three islands of the Juan Fernandez Archipelago is located 600 kilometers from Santiago. It is a 2-hour flight from the capital city or a 30-48-hour voyage from Valparaíso leaving for the island only a few times a month.
0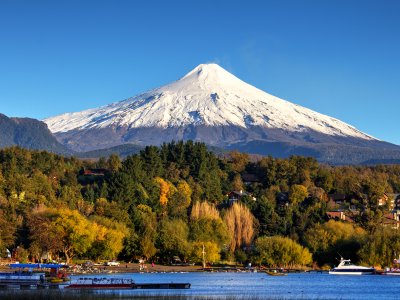 Villarrica volcano in Pucon
One of the most active stratovolcanoes in South America is located in the national park of the same name - 20 kilometers southward from Pucon. From July till September there is a ski resort on the north slope of the volcano.
0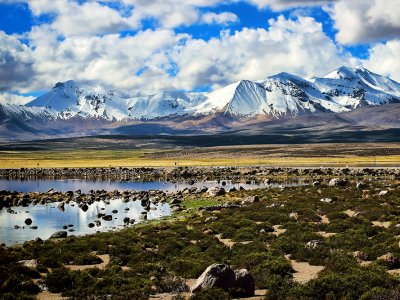 Lauca National Park in Arica
The park is located 145 kilometers eastward from Arica city. The park is known for picturesque lakes, volcanoes and caves. You can join an excursion for $38 to get to the park.
0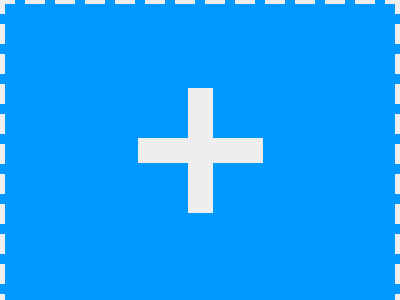 Know more places to visit?
Share your ideas of what to see in Chile with other travellers — together we'll make our travellings much more interesting!