Take a walk around melting ice caves
#1 of 1 things to do in Juneau
If you wish to find an alternative to beach holiday and go to a completely out-of-the-ordinary place, you should definitely consider the option of visiting the melting caves of Mendenhall Glacier. Here, you will enjoy active leisure, as well as ecotourism, and a bulk of wow-impressions, too.

As a result of the global glaciers melting, each year the visitors of the cave witness absolutely different scenes. Not only the cave landscape, but also its color is changed. The trees, concealed by the thick layer of ice for thousands of years, become barren, and the ice, once turquoise, today takes a tender blue tint. No one knows how long this wonder of nature will last, that is why you should see the beautiful ice landscapes as soon as possible.

The Mendenhall caves are available for visiting daily from 8:00 to 19:30 in summer, while in winter you can take a walk around this natural attraction only on Friday, Saturday, and Sunday from 10:00 to 16:00.
Where to do?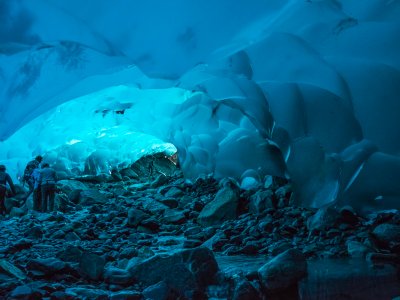 Mendenhall Ice Caves
The Mendenhall caves are by right considered to be the most beautiful in the world. Their blue arches create most fantastic scenes of nature.
10
Juneau
Location: Juneau, AK 99801
Open hours: you can take a walk in the Mendenhall caves from 8:00 to 19:30 in summer and from 10:00 to 16:00 on Friday, Saturday and Sunday in winter.