Have a port beverage at Estrela garden
#3 of 7 things to do in Lisbon
The garden of Estrela is inhabited with not only ducks, but also parrots, peacocks, geese and swans. Also you can observe palm trees, giant ficuses, cedars, northern spruce, pine trees — almost all types of plants from different climatic zones of our planet.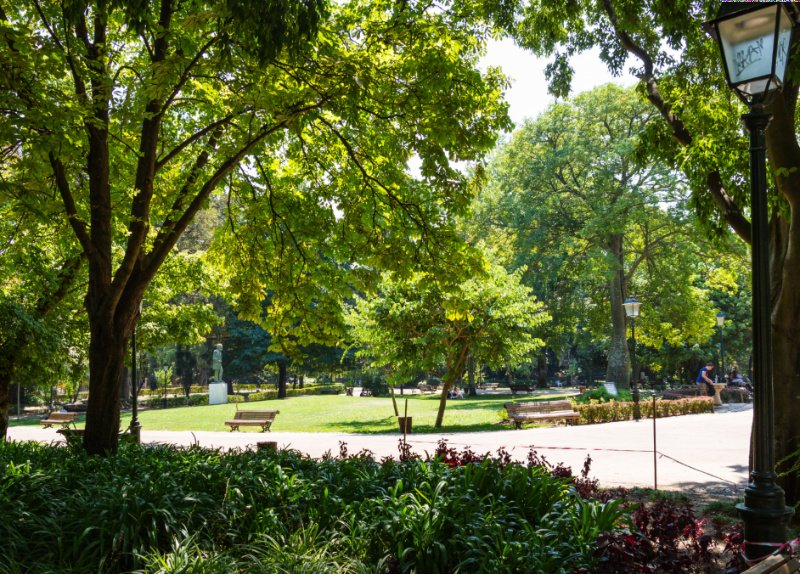 Photo: Estrela garden, © Max Bashyrov
In local restaurants, you can order a glass of port or just buy a whole bottle and take with you to have a great evening. Also in the evening, you can go to the garden center, where locates an open-air music pavilion to listen some live music.
How to do?
1. Come to the Basilica da Estrela in the evening. The garden is nearby and it is not difficult to find it. You can use the famous tramway route number 28.
2. Go into the garden through the front entrance.
3. Do not rush, stroll slowly, look for a local restaurant.
4. Buy a bottle of port.
5. Come out and enjoy the flora and fauna.
6. Head to the center of the garden. There will be live music in the pavilion.
7. Have fun!
Where to do?
The garden nearby Basilica da Estrela
The official opening of the garden Jardim da Estrela nearby Basilica da Estrella took place more than 150 years ago and bekame a national historycal monument of architecture.
5
Lisbon
Location: nearby Basilica da Estrela
Open hours: daily from 7:00 am till 00:00 pm
Phone: +351 21 397 4818

Tips and hints
Visit the garden on a day off in the evening, if you want to find some people to chat. If you like peace and quiet — come to the daytime in one of work days.