Swim with Dolphins
#72 of 74 things to do in Dubai
The Atlantis Hotel in Dubai hosts one of the best dolphinariums in the world, the Dolphin Bay. Here, your acquaintance and communication with dolphins will be a real adventure, worth of sharing with your friends.

At the Dolphinarium, you will be not only a spectator, watching for bright performances of dolphins, but also a party to adventures involving these animals. You can swim, play, hug and take pictures with them. In addition, the Dolphinarium offers several interesting interactive programs for visitors of all ages, regardless of swimming skills.

Youngest guests will have a lot of surprises — from ball games and swimming with dolphins in shallow water, to kissing a new friend captured by the camera.

If you are a good swimmer or have a diver's certified, you can access more exciting entertainment — fin swimming, diving with a dolphin or vertical swimming when a dolphin tows you to the shore, keeping its nose under your feet.

If you want to learn some interesting facts about dolphins, their psychology, characteristics of training and the importance of species conserving, be sure to look into the educational center.

Book a visit with the website in advance as you hardly can buy tickets day to day.
Where to do?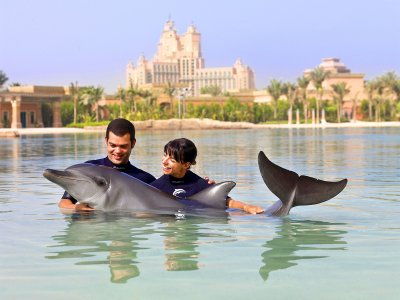 The Dolphin Bay
The world's best Dolphin Bay is a modern training center for dolphins in the artificial tropical ecosystem.
14
Dubai
How much?
available programs:
"Dolphin Encounter" 895 dirhams
"Dolphin Adventure" 1,065 dirhams
"Royal swim" 1,195 dirhams
"Dolphin Photo Fun" 475 dirhams
"Dolphin Scuba Dive" 1450 dirhams
The sooner you book, the cheaper it will cost.
Booking a program, you automatically get a free entry to the water park Aquaventure.
Tips and hints
all programs are held in English.
Though everybody goes in the water park without sandals, it is better to put on your shoes when going to dolphinarium as the floor here is very cold.