Ride a water bus
#51 of 74 things to do in Dubai
Since recently, all guests of the Emirate of Dubai are offered a new and exciting adventure. You can take part as well. The unique Wonder Bus floats through the streets of the city and then the waters of the Persian Gulf! Yes, that's right, you won't have to switch to water transport. This tour bus is registered in the police and has all the necessary permits from the Coast Guard.

As regards technical parameters, it is worth noting that the Wonder Bus admits up to 49 passengers; its maximum speed is 120 km/h. The amphibious bus is equipped with everything necessary, from a first aid kit and life jackets, to video cameras and air conditioning, guide's microphone and fire-fighting system.

During the water tour you will see iconic landmarks located in the coastal area of Dubai. It is no secret that it's quite hot in Dubai during the day, so here you will be offered refreshments. Passengers are accompanied by a guide, who entertains them with interesting stories about the city and the gulf.
Where to do?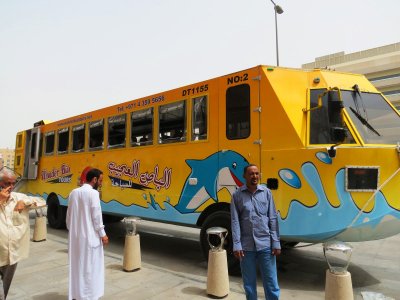 Wonder Bus
This amphibious bus, the first in the Middle East, is an opportunity to travel on the roads of the city and the waters of the Persian Gulf.
20
Dubai
How much?
ticket price for adults - 160 dirhams, for children - 115 dirhams. Tickets can be bought in advance at a discount: adults - 135 dirhams, children - 100 dirhams.