Sheikh Zayed Mosque
#1 of 20 places to visit in Abu Dhabi
A marble stone construction, lined with crystals, semi-precious stones and gold, the Sheikh Zayed Mosque is rightly considered as a symbol of the original Islamic architecture.

Of all the incredible interior items of the mosque, some are listed in the Guinness World Records Book. They are the largest chandelier in the world, made of Swarovski crystals, and the largest 47-ton carpet covering an area of more than 5,000 square meters.

Since 2008 the mosque is open for visiting to believers of all confessions. Tour guides will tell the tourists about the history of Islam and recount the stages of the mosque construction.
Things to do here
1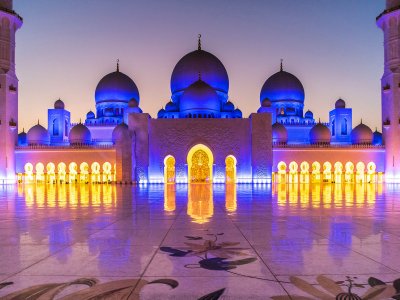 oddviser
Visit the Sheikh Zayed Mosque
Visit the Sheikh Zayed Mosque, a symbol of the authentic Islamic architecture and an example of the unity of all peoples and religions.
How much:

free
23
Sheikh Zayed Mosque Guest
Share an idea!
Have an adventure or entertainment idea that we don't have yet? Share your idea with other adventure-seekers!
−
Sheikh Zayed Mosque on the map
Open hours
Saturday-Thursday from 09:00 am to 10:00 pm; entrance available till 09:30 pm. On Fridays entrance available from 04:30 pm. Visits to mosque are limited at the time of Salaat.
Contacts
Phone: +971 2 419 1919