Ride the most speedy rollercoaster in the world
#10 of 20 things to do in Abu Dhabi
This is a breathtaking attraction in the Ferrari theme park on the Yas Island. And if it was not Abu Dhabi, entertainment here might be just ordinary. But the Emirate's Government, seeking to be the first in everything, did't miss the chance to be remarkable and again it turned out ahead of the curve.

The attraction Formula Rossa is recognized as the fastest roller coaster in the world. And if you're not afraid of a meteoric rise to the height of 52 meters and the same extreme slopes at the speed of 240 kilometers per hour, you surely need to try to test your character at this attraction. And if you do not have twopennyworth of spunk to cope with this crazy entertainment, look at how the action is going on.

By its shape, the attraction is similar to a real Italian race track. Passengers are sitting on the seats of the Ferrari stylized trolley, fasten seatbelts and put on special glasses to avoid contact of eyes with dust and insects. At this point, the hearts of the riders begin to beat faster.

A catapult launch system is activated at the start. The trolley shoots out on the track and takes the speed of up to 100 kilometers per hour in just few seconds. The trolley covers the distance from the start to the finish, which is more than two kilometers, for 93 seconds. Thus, you will be able to take part in a kind of Grand Prix and to feel like a hot pilot of Formula 1.
Where to do?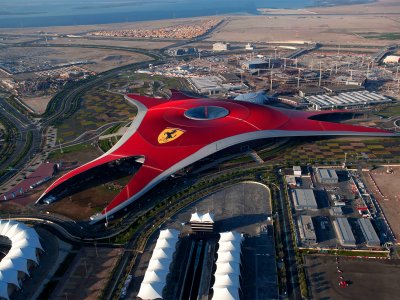 Ferrari World
The world's largest theme park Ferrari is a unique concentration of attractions, restaurants, boutiques and shops.
14
Abu Dhabi
Location:
Yas Island
Open hours:
Sunday - Wednesday from 11:00 am to 08:00 pm, Thursday - Saturday from 11:00 am to 10:00 pm
Phone:
+971 2 496 8000
Official website:
http://www.ferrariworldabudhabi.com
How much?
ticket for adults costs from 250 to 500 dirhams. Children ticket costs from 205 to 415 dirhams. You should pay the additional cost for the extreme ride which is about 100 dirhams. Only people with the height of no less than 130 centimeters and no more than 195 centimeters are admitted to the attraction.
Tips and hints
to save time and avoid standing for hours in queues, it is better to purchase tickets online on the official website — https://tickets.ferrariworldabudhabi.com/ferrariworld/b2c/index.cfm/calendar