Feed giraffes
#4 of 20 things to do in Abu Dhabi
At Emirates Park Zoo, you can both watch various animals and feed some of them. This is the reason why there's often so much excitement near the Giraffe Park. Kids and adults love to interact with the gorgeous tall animals.

To take the juicy grass or acacia branches out of your hands, the giraffes bend their long necks and grab food by their long tongues, up to 45 centimeters in length. You can buy treats for the animals in a stall next to the open-air cage. For example, a tuft of grass costs about 5 dirhams, but feeding the giraffes is free of charge.

The distinctive feature of the zoo is the resort located in a close proximity to the sections with zebras and giraffes. The guests of the resort have the opportunity to feed the animals directly from the balcony, without leaving the room.
Where to do?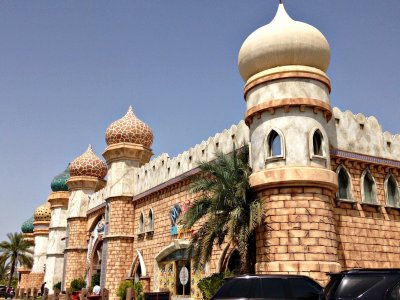 Emirates Park Zoo
This zoo attracts both adults and children because it is different from other zoos for the possibility to interact with most species, feed and even pat them.
19
Abu Dhabi
Location:
12th Street, Al Bahya
Open hours:
Monday to Wednesday from 9:30 am to 08:00 pm, Thursday to Saturday from 9:30 am to 09.00 pm.
Phone:
+971 2 501 0000
Official website:
http://emiratesparkzoo.com